SKELETON RIDES
by Sean
Please note: MP3s are only kept online for a short time, and if this entry is from more than a couple of weeks ago, the music probably won't be available to download any more.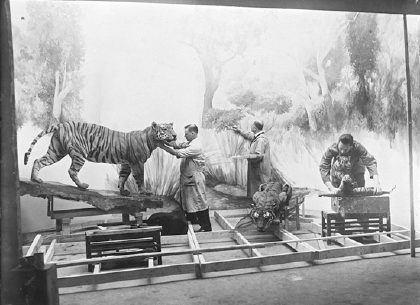 The Phantom Band - "Throwing Bones". Get in the car, son! We're going on a trip. Roll down the windows, choose a radio station, crack open the Glosette Raisins. That blue sky is the blue of your mother's eyes. Those green trees are the green of your grandfather's eyes. The world's the stuff of all your ancestors, son. Never glare at a rain-cloud, never curse a mudpuddle, never glower. Love, that's what I say. The trunk is full of skeletons and we're taking them to the sea. [buy]
Emmy the Great - "MIA". Don't listen to this song because the chorus talks about M.I.A. - listen to it for the weird little cuckoo pipes. I mean the "LOO-la, loo-LA" at the corners of the lines, notes whose instrument I can't trace, sounds that seem at first like sweet Hello!s, like signposts of twee, and then gradually change into something else. Because this gentle song is ultimately a song about things being wrong, wrong as in not-right, and the weird little cuckoo pipes are the only musical marker of this. They turn in place and become very mildly discordant, just one step off, and to me it's the perfect sound for nostalgia soured, & dreams' sudden sunset. [buy]
---
Thanks to, er, Jian Ghomeshi for the mention of Said the Gramophone on Q yesterday - if anyone from the show is out there, could they let us know how to hear it? It didn't make it into the podcast. Thank you! My mum was delighted.
SITE NEWS: I've taken the liberty today of introducing Said the Gramophone's NEW, FANCY comments widget ajax feature swish swish swish! Hopefully will encourage more commenting, conversations and talky-talky. Try clicking on 'Comments' and behold! (Will only work from saidthegramophone.com proper.)
Posted by Sean at February 19, 2009 11:37 AM