So Long And Thanks For All The Jams
by Mark Streeter
Please note: MP3s are only kept online for a short time, and if this entry is from more than a couple of weeks ago, the music probably won't be available to download any more.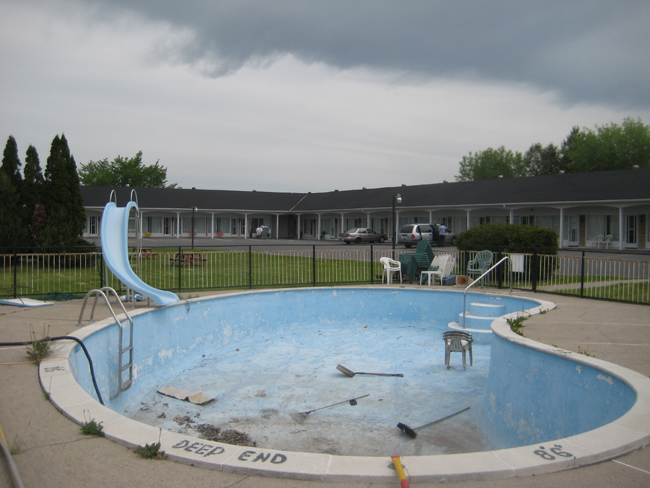 All summer I've had a candle lit for my Chosen One, my self-ordained Summer Jam of 2015, waiting for the sign that it had caught fire, left deep scorch marks across the summer jam landscape. But now it is September and I must turn away from this internet-window, hope hardening into steely autumnal resolve. Time now for us to mourn, to bid farewell to the most fleeting summer we've ever known. Time now for us to do the work of remembering, of giving name to those second-tier jams that got away from us. I'll go first.
"Bang'n On King Dr." may not have burned as brightly as many of its peers, and yet we are all luckier for it having happened. It's a masterful execution of a staple footwork principle, taking a sample of tiny duration and repeating it endlessly so that it becomes a kind of texture, a strange and cool cluster of tones and timbres removed from their original context. The song seems to gather momentum effortlessly, verging almost on too-amped silliness, and it's surprising that so much forward motion is being generated by so few elements: the relentlessly repeating voice samples; the two dead-dry thudding bass notes that you won't even hear if you're listening to this on a laptop; the janky drum machine getting dialed up to 160 bpm. There's a supreme IDGAF approach to the production, seams showing everywhere -- you can literally hear how he is just shouting those street numbers into his MacBook's built-in microphone. It feels like it was made in five reckless minutes, a surge of irrepressible stoned enthusiasm captured in real time.
We don't have to stop drinking radlers just this second, but let's not lie to ourselves either. Soon it will be time to haul the cardigans from the closet, time for the new Beach House record to enter heavy rotation on coffee shop playlists, time to pin hopes to Jennifer Castle improbably winning the Polaris Prize. Summer's a dead raccoon on the sidewalk, having lived fast and died hard, not knowing any other way. We have "Bang'n on King Dr." so that we can remember it in all its hot and stinky glory.
Let us do the work of remembering. Let us not forget the names. Hit the comment button below and share a lost summer jam. Let us commiserate over having had it so good these past few months.
[buy]
Posted by Mark Streeter at September 1, 2015 9:12 AM