TALKING ABOUT SUONI PER IL POPOLO
by Sean
Please note: MP3s are only kept online for a short time, and if this entry is from more than a couple of weeks ago, the music probably won't be available to download any more.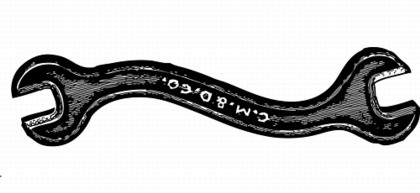 William Basinski - "Disintegration Loop 1.1 [excerpt]".
I don't do this very often, a big interview on a local subject, but Montreal's Suoni Per Il Popolo festival is not just a treasure that more of the city's music-lovers ought to take pleasure in, but a possible model for festivals worldwide. Small, ambitious, utterly splendid, Suoni's organisers have for 10 years been bringing some of the planet's most adventurous, deep-diving and volatile artists to Casa and Sala during the month of June. This is not staid indie rock: it's free jazz, free folk, noise, contemporary classical, musique actuelle, weird punk. All the stranger stuff, curated with verve and playful skill. For me, much of this music works best in a live setting - that is, I don't always get it when I'm listening to a CD - so Suoni offers an unrivalled gateway into new feelings. It's beautiful, sometimes scary. Every year, a new slate of names I've never heard of, or barely heard of: a hundred different tantalisings.
I reached out to Suoni's Mauro Pezzzente and Kiva Stimac (founders) and Steve Guimond (artistic director), to ask a few questions for my own sake, for your sake, and perhaps for those who mount shows outside of this fair city.

A decade on, how do you maintain Suoni per il Popolo's identity? What is it that sets the festival apart and how do you make sure that it retains those qualities?
Our idea has always to get better and better, not bigger and bigger. Suoni has always stuck to its original mandate: to celebrate Liberation music, music that is inspired by freedom of expression, improvisation, and sonic explorations that appeal to music aficionados worldwide. Having this as a starting point helps us keep things in check musically and philosophically. We have also operated out of the same two venues, year after year. Casa del Popolo + Sala Rossa = Suoni. They are such great, intimate spaces to hear music in, and the bonds created within their walls between artist and listener are second-to-none; they are almost unparalleled worldwide. Finally, the festival has never been about us, but about the artists and the fans.
Organising concerts and promoting festivals are largely thankless jobs. Is this something you struggle with? What rewards do you draw from this work?
We all lead busy lives outside of work (partners, children, bands, businesses), but Suoni kind of keeps us grounded. To see where it's grown to today, in comparison with the earlier years, is inspirational. Suoni has always been about friendships with the artists, and building bridges directly with them. We've managed to keep things very casual and open, and more importantly personal. This is where the joy comes from.
Do you have any advice for people starting a festival?
Follow your heart and your ass will follow. Make sure you are doing things for the right reasons, ie the music you love and artists you respect.
Suoni's programming can be intimidating. It's also a wonderful, wonderful opportunity. What's the best way for people who don't know these names to figure out what shows to go to? Streaming musique actuelle, free jazz or noise MP3s rarely seems to communicate what the artist is about.
Good question. I guess firstly do a bit of research, as we do when we're checking out new artists. The internet has opened up so many listening possibilities and wonderful discoveries. Trust your friends. (Word of mouth is a powerful tool.) And take a chance and trust us! We put a lot of time and effort into programming the nights, and much thought is paid to both fans and non-fans. Much of what is deemed 'leftfield' is actually quite accessible, but for whatever reason, the artists in question just haven't broken through to more listeners. Our website is flush with way more bio info, links, streams, and videos.
For the people I'm gesturing toward above, who are curious but not knowledgeable about this kind of music, which acts should they see at this year's Suoni?
Tough question, but these are the not misses: Grouper, Pocahaunted, Radian [We've already missed these!! - Ed.], Emeralds, Kidd Jordan/Hamid Drake/William Parker trio, No Neck Blues Band, Oneida, all the artists at No Fun Night, William Basinski, Matthew Shipp trio, Vandermark 5, Globe Unity Orchestra, Talibam!, Aki Onda, Kath Bloom.

For those who are already into these kinds of musics, what's the mindblowing stuff at this year's festival which they might overlook?
Definitely one of the most out-there musicians we have ever come across, from Paris, Ghédalia Tazartès. We discovered him a number of years ago through friends of the festival who raved about his music. Last year he presented a trio here, Les Reines d'Angleterre, as he told us he needed six months to prepare for solo shows and he could not ready one in time for June 2009. After last year's performance we arranged to have him come back alone this year. He is an artist who must be heard to be believed. He's created his own language, musical and otherwise, that knows no boundaries and is truly uncategorizable, save for the utter beauty and emotion he conveys.
Further, William Basinski (mp3) is a must. He's a seminal figure in the underground minimal/ambient electronics field, who's been plugging away for twenty-five years now. Only in the last couple of years has people started to pay attention. His music will make you cry.
Finally, how has Montreal changed over the course of Suoni's decade? Besides buying tickets, what can those of us who live here do to help make sure that Suoni - and likeminded projects - never, ever go away?
Ten years ago, Montreal was a wasteland in terms of the presentation of these types of concerts. There was a lack of promoters and stages. There are still too few stages in the city, but the amount of crazy music to be heard has certainly exploded compared to a decade ago. Now, Montreal is a must stop on may folks' touring itineraries. I guess the best thing that Montrealers can do to keep Suoni rolling is get involved. Our doors are always open. We survive each June with the help of many volunteers. And dialogue is important as well; we rely on our friends and fans to keep us informed about new music or bands they've some across. Many of our shows come from personal ties between local artists or promoters and the bands. And of course, help spread the word about our little festival!
---
Suoni Per Il Popolo runs until June 26. My own dumb-dumb highlights, from the remaining calendar, include William Basinski, Tune-Yards, Julia Kent, Frog Eyes, HEALTH and Jeff the Brotherhood, Tonstartssbandht, Where The River Got The Water, Kath Bloom and the Judee Sill tribute. I also try to make it a priority to attend the various (free) artist workshops - caught a wondrous thing with Akron/Family a couple of years back. But don't mind me - I'm going to follow Mauro, Kiva and Steve's advice above; with Suoni it's always best to stray from the known path.
Posted by Sean at June 10, 2010 1:00 PM