The Anticipation of Dan
Please note: MP3s are only kept online for a short time, and if this entry is from more than a couple of weeks ago, the music probably won't be available to download any more.
It's raining and the old plates and ashtrays are filling up. Dawn came this morning the same way it left; silent and massive. Breakfast of television and grape juice, final fantasy tactics advanced. The sun has no plans of showing up today, why should I? [site]
--
Okay, now I have to admit something: I am in Japan. I have been all week. I'm visiting my wonderful girlfriend and I will be until mid-April. So I've decided to take this opportunity to expose myself to some music I wouldn't get anywhere else. But I also have no money, so I've decided to go exploring in the bargain bins of japanese record stores. I've already found that, much like North American bargain bins, this music is not very good. So I think I'll share the cover art (the only thing I have to go on), what I think they should sound like, and then you can hear what they actually do sound like.
Mr. Moonlight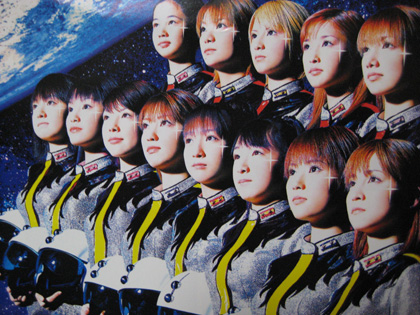 what they should sound like : screeching. like an interstellar acapella noise-rock choir. With a song called "Guardian's Waste" there should be 4 of them on rocket sounds, 4 of them on monster sounds, 4 of them on blaster sounds, and 1 of them to speak a monologue in a low voice, in Japanese, about a journey to a distant planet for another oil harvest, only to find an enormous jagged-edged blade-monster with 9 brains called Jikkuban guarding the bounty. Only through a culmination of 13 souls (the singular being could, I suppose, be named "Mr. Moonlight") can the monster be defeated. But perhaps to kill for fuel is not in line with Mr. Moonlight's morals, or perhaps it is.
what they actually sound like .
Posted by Dan at March 14, 2008 4:31 AM