The Cryptkickers
Please note: MP3s are only kept online for a short time, and if this entry is from more than a couple of weeks ago, the music probably won't be available to download any more.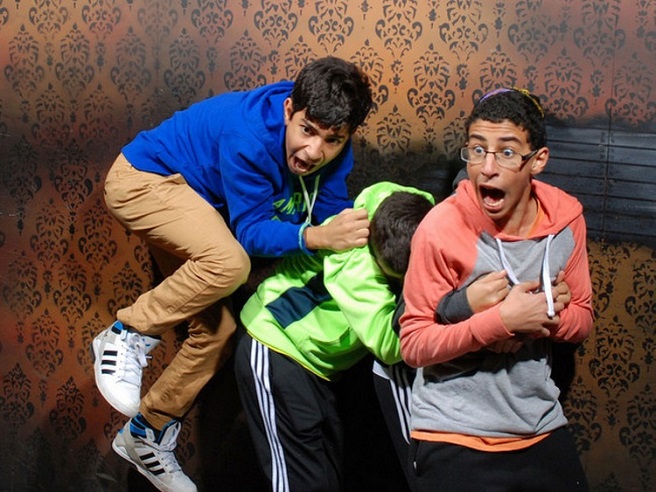 Juanita y Los Feos - "Escupe en la Tumba"
No one knows why, but the weeks leading up to Hallowe'en are the most fertile time of the year for forming punk bands. Some suggest it's a response to the onset of cold weather and darkness; others believe it's the high intake of candy. Either way, that was when my band The Cryptkickers got together.
Spirits roam the earth in October. They leave their crypts, coffins, and mausoleums and find seasonal employment at haunted houses and hayrides. I was a ticket taker at the haunted house in the mall parking lot and after a few weeks of working with some ghouls I figured out most of them were into cool music. Turns out the undead and young punks have a lot in common.
The idea of starting a Hallowe'en cover band came up in the lunch room one day. We talked about it, quickly rejecting stand-bys like The Misfits and The Smiths, passing over The Cramps and Black Flag. When Melissa the wight admitted that she used to play the sax we settled on X-Ray Spex. We jammed in my parents' basement. A cool greaser ghost named Josiah was on bass, Tanya Tyrant on the skins, Danielle, a low-key banshee, was on the mic, Vincent Wolfman on keys, and I played guitar. After a few practices, we realized that, fuck it, it's way easier to write your own songs than learn covers.
We wrote five originals and got added to the bill at a Hallowe'en party. We played the show and everyone loved us, but come the stroke of midnight, just after our set, they started disappearing. Back to their crypts until next year. I had to pack up all the gear on my own.
Posted by Jeff at November 17, 2015 7:30 PM