The Dollar Menu Dickens
Please note: MP3s are only kept online for a short time, and if this entry is from more than a couple of weeks ago, the music probably won't be available to download any more.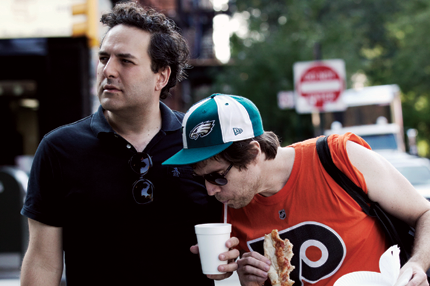 Tom Scharpling - "John McCain Plays the Theremin" (during the 2008 election race)
Tom & Paul F. Tompkins - "vs. Michael K" (Michael K plays in The Cynics, and is a notoriously boring, long-winded caller)
Tom Scharpling - "Chestnut Mare"
Tom Scharpling - "Impressions"
I've posted about The Best Show on WFMU before, but it's the WFMU fundraiser again, the final Best Show drive show is tonight at 9, and I want to make sure it doesn't get missed. The Best Show on WFMU is one of my very favourite things in the world, and I will tell you why:
It is one of the most novel and successful comedy experiments I've ever encountered. It's a three-hour call-in radio show every week, and it's currently in its 12th straight year. That's ~1800 hours of broadcasting, which in itself is not novel or an experiment, those things comes from the way those hours are used. Stories that get completed or continued spanning years between their updates. Callers and guests that feed back on their previous appearances, recalling moments or even phrases from months prior. A caller who started appearing on the show when he was 10, who's now grown up, become angsty and angry and been banned dramatically and permanently. Crazies and assholes and beautiful, marvelous accidents. And at the center of it all is Tom Scharpling, who has evolved as well. The growing popularity of the show modifying his approach, his moralism and impatience for negativity have streamlined the show's trajectory even further. Just listen, and keep listening, and listen more. For the lonely, the confused, the intelligent or the silly, Best Show is an iceberg, that one can only ever experience the tip, so hopefully one of these four tips will make you want to explore the rest. And if you're already a fan, don't forget to support. Non-"podtrash" radio, chump-steamrolling WFMU needs your help, and the way I help them is through Best Show.
[So tonight, from 9pm-midnight, stream the show at wfmu.org, and pledge +75$ to receive the prize pack, an always-incredible collection of original single-run comedy material. It will not disappoint, and it will never be available again after the funding drive. Last week, Tom broke all previous records by raising 100K in 3 hours, let's break 'em again.]
(image: Tom Scharpling and Best Show-regular Jon Wurster)
Posted by Dan at February 28, 2012 3:58 PM