THE HEAT OF A LAMP
by Sean
Please note: MP3s are only kept online for a short time, and if this entry is from more than a couple of weeks ago, the music probably won't be available to download any more.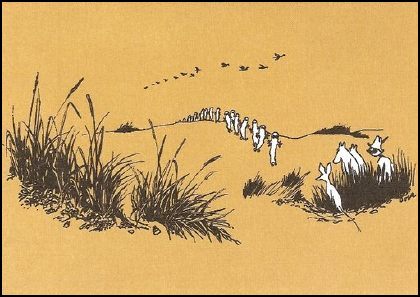 We/Or/Me - "Tell Sarah". This weekend in Montreal was sweltering. At night it was the sort of heat that makes half-moons feel full. Musically, there are two ways to cope with weather like this. You can listen & dance to sparkly summertime jams, barbecue cooking... or you can do as We/Or/Me do, as they did when I first heard "Aimless Day" three years ago. "Aimless Day" has just been reissued on the Ghostwriter EP (listen here), along with "Tell Sarah" and three other slices of dusk. We/Or/Me are a wondrous group - not just for the restraint and care of their songwriting, but also for the way these songs are recorded, slow and breathing. "Tell Sarah" glows, just of itself, like fireflies in a jar. [highly recommended - buy]

Sibylle Baier - "Tonight".
Sibylle Baier - "I Lost Something In The Hills".
Sibylle Baier - "Wim".
And this stillness brings me to Sibylle Baier, an artist who had made it into my peripheral vision but never further, until A sent me some songs. I wasn't just struck - I was smitten. Orange Twin sent me the record and now I'm not sure which is more flabbergasting - what a stunning album this is, or how little attention it received. It's an artifact, a locket, a lake; it's so many shades of melancholy; it's one of the most startling records to cross my desk in ages, and its songs linger long & long.
Sibylle Baier was a German actress (appearing in Wim Wenders' Alice in the Cities). Between 1970 and 1973 she recorded some songs on a home reel-to-reel machine. Then they were put away for more than 30 years, until Baier's son passed them to J Mascis and J Mascis passed them to Orange Twin, and the American indie label released Colour Green in 2006. And rather than attract the furore of Vashti Bunyan's Diamond Day, well - it didn't. Not very many people seem to have heard it, or of it. Bunyan's pretty album, and especially the very pretty "Diamond Day", became icons. But this - a better album, a stranger & more precious one, - seems to have languished. Never reviewed by Pitchfork or the New York Times, never sewn onto a million soft sleeves.
But this modest, captivating masterpiece should be in the collection of anyone with a taste for bedroom folksong. Colour Green is like a sister album to Leonard Cohen's Songs from a Room (a clear influence), and even Julie Doiron's Desormais (an impossible influence). And while the sadness of "Tonight" is at times almost deafening, there's elsewhere - as on "Wim", - a whimsy that recalls, say, the line drawings of James Thurber or Tove Jansson (see above). The spark at the heart of a lamp.
If you don't own Colour Green, you should buy it. I've shared three songs here in the hope that I can persuade you.
Sibylle seems to be working on new music.
[buy]
Posted by Sean at June 9, 2008 12:19 PM