THE MIDNIGHT BLUE
Please note: MP3s are only kept online for a short time, and if this entry is from more than a couple of weeks ago, the music probably won't be available to download any more.
Los Campesinos! - "You! Me! Dancing!". Cardiff's Los Campesinos! have an exclamation mark in their name, like the Go Team!, are signed to Wichita, like the Go Team!, and blaze fucking technicolour, like the Go Team!. But while the punctuation, the label and the razzle-dazzle are familiar, they don't particularly sound anything like the Go Team!: instead it's the glockenspiel indiepop of The Delgados, The Winks and Ballboy. Boys sing with girls, nonsense is bellowed, calm gives way to dancebeat rock'n'roll. It starts all coy, playin' with atmospherics and anticipation, but come 1:38 you'll know what the song is about - a cycle of guitar, drums and glock that'll wear you ragged. They're a group that makes me wish I was in a band; it's a song that makes me wish I was a piece of vinyl.
[MySpace]

Kim Doo Soo - "Wild Flower". This is from a compilation called International Sad Hits, Vol. 1: Altaic Language Group. It's a record compiled by Damon & Naomi, with contributions by four Asian singer-songwriters who are veterans in their scenes - compared in the press notes to the likes of Tim Buckley, Bob Dylan and Nick Drake. This is by far my favourite cut on the record, something soft and a little broken by Korea's Kim Doo Soo. It opens with a clip from Badly Drawn Boy's "Stone on the Water" (thanks aleska!), violin trembling under disjointed organ phrases. When Kim Doo Soo's voice appears it is balanced delicate on the line between melancholy and maudlin. As the song rises around him - harmonica, plucked fiddle, - and returns to the opening melody, the maudlin aspect's totally gone. It's just plainly sad.
[buy / read Damon's StG guestpost from April 2005]
---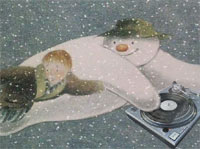 Shake Your Fist shares Robin Allender's version of The Snowman's "Walking in the Air". Allender used to record as The Inconsolable. The Snowman was one of my most cherished childhood films: a spinning musicbox version still sits by the bed in my old room at my parents'. Allender's rendition is not quite slow enough, but as Amy says it is a "sugar-dusted murmur" - quiet as my whisper at the first sight of snow.
For something very strange, see IRN BRU's version of The Snowman (and "Walking In The Air"), featuring a fly-over of the Forth Bridge, Edinburgh Castle, Princes Street Gardens, George Square, and other suitably Scottish landmarks. IRN BRU is of course a Scottish soft drink, made of girders.
Scots should join me at Damien Jurado in Glasgow tonight. (Turns out this was last night - dammit!)
(Best of Year contest winner(s) will be announced next week when StG presents its favourite music of 2006.)
Posted by Sean at December 7, 2006 3:00 AM