THE MOUNTAIN PATH II
Please note: MP3s are only kept online for a short time, and if this entry is from more than a couple of weeks ago, the music probably won't be available to download any more.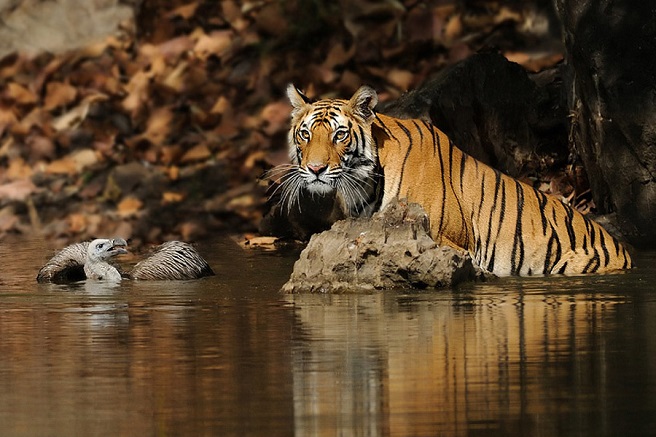 Djivan Gasparyan - "I Will Not Be Sad In This World" [buy]
(Read part one of the story here)
Barnabas the tiger stalked the narrow mountain path in a frenzy. Moments before his master Lin had fallen into the steep canyon below. He looked for any traces of her but even with his sensitive vision he couldn't see anything in the chasm.
Barnabas didn't notice the vulture as it corkscrewed down from the heights and landed on an outcropping of rock nearby.
"Friend," the vulture began, but seeing the bird Barnabas reared up to leap. "Chill, son," the vulture said. "If you try to take me out you'll end up following your master to the rocky bottom."
"You mock me," Barnabas growled.
"Listen, listen. Easy. I was coming over here to warn you. Ever heard of old Wizard Landlock? He holds a power over the path, and most people who attempt it end up falling over the side. It's some kind of vertigo charm. Animals are immune to it."
"But why?" Barnabas asked. "We've never run afoul of wizards."
The vulture shrugged. "The dude's confused, he thinks the mountains are his. As if. And he likes his privacy so he littered the place with traps.
Barnabas's anger was subsiding and he let out a long howl of sadness.
"Wait, buddy. There's good news. At the bottom of this chasm there lives an old fisherman named Alonso. He set up his nets down there, out of the wizard's long sight. He catches almost everyone that takes a header, so I bet the lady's fine. I'll show you the way down if you like."
Barnabas considered his options. Quite likely the carrion bird would lead him off a precipice and make a meal of him. He thought of Mica, and their mission to save him. Perhaps if he pressed on--but he couldn't do it on his own. He needed Lin.
"Trust me," the vulture told him and took to the wing. "I'm Giselle, by the way."
Barnabas grunted his name in reply and followed Giselle to the secret path down the stony cliff.
Posted by Jeff at February 7, 2017 6:58 PM