The Nerds We Lost
by Mark Streeter
Please note: MP3s are only kept online for a short time, and if this entry is from more than a couple of weeks ago, the music probably won't be available to download any more.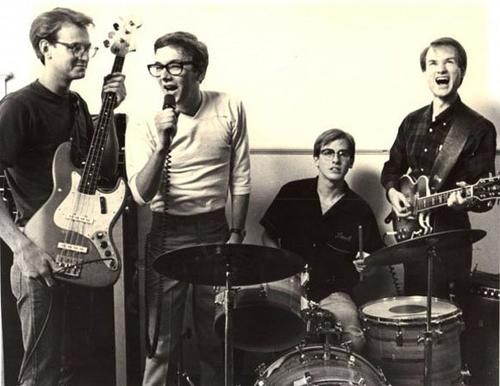 The Embarrassment - "Celebrity Art Party"
The Embarrassment - "Immigrant Song"
It's weird to think that nerds used to be outliers; that theirs was once an under-represented perspective, a different way of being in the world. Somehow it's not now; nerds have traded their Sweater Songs for Hash Pipes, become deadbeat dads in Wes Anderson movies, annexed huge swaths of the internet to create safe spaces for being mean, being right, taking revenge. It's depressing to think that those who once existed on the margins of popular culture now seem so keen on policing it. I wasted a lot of teenage years becoming intimately familiar with the Marvel Universe, not knowing this was the end game.
The Embarrassment are the kind of band made extinct by this shift, nerds who fashioned their own narrative and made their own fun, because no one was going to bring fun to Wichita for them. They toured a lot from 1980-1983 but released few recordings, just a couple of singles and an appearance on an early Sub Pop compilation (with Neo Boys and Jad Fair, among others). Of these, "Celebrity Art Party" is a breathtaking standout, bright and optimistic in its tone, with a manic, careening rhythm section that somehow never comes unglued, and lyrics that are sarcastic and critical without carrying any real menace (the dead-dumb rhyming of "Art Carney" with "Art Party" kills me every time).
The band was not long for this world, with two members departing for college in Boston (where they would form the more well-known Big Dipper, whose recent reunion was famously orchestrated by Tom Scharpling over a series of Best Show episodes). Their recordings, most of them unreleased, were finally compiled on CD in 1995, too soon to capitalize on the new wave revivalism of bands like Clap Your Hands Say Yeah and Arctic Monkeys, too late to grab the attention of bros who'd flipped out a year earlier to Crooked Rain, Crooked Rain even as it mocked them. One of the gems on the CD is a go-for-broke live version of "Immigrant Song," delivered with a goofy recklessness that acknowledges The Embarrassment couldn't possibly exist in the same realm as Zeppelin, while trashing the shit out of the song in a way that band never could. It's a window into a nerd-world we can't go back to, where irreverence did not seem so tyrannically cynical, and where freedom could be felt in not-belonging.
Posted by Mark Streeter at August 25, 2015 9:52 AM