The Thundering Grins of Je Suis France
Please note: MP3s are only kept online for a short time, and if this entry is from more than a couple of weeks ago, the music probably won't be available to download any more.
Je Suis France - "Wizard of Points"
It seems the Wizard of Points exists in all senses, in one being, that commands this song with his hand, on a joystick, or held before him in that "you are under my telekinetic control" kind of stance. So:
i) The Wizard of Points - in a mathematical sense, a controller of the intersections of axes.
ii) The Wizard of Points - a many-spined, sharp-to-the-touch warlock of a deep blue colour, predator of nothing, but also prey to nothing in return.
iii) The Wizard of Points - the silent partner to an award-winning debate team. takes furious notes and whispers hisses of rebuttal while staring down the opponent.
iv) The Wizard of Points - a video-gamer with formidable patience, who can stay in the "infinite enemies" loops in Contra for hours at a time.
v) The Wizard of Points - as opposed to prose, an expert of summary, in bullet format.
vi) The Wizard of Points - "the most experienced man"
can you hear them all? Like the 6 faces of a cube, smooth and blaring, as one.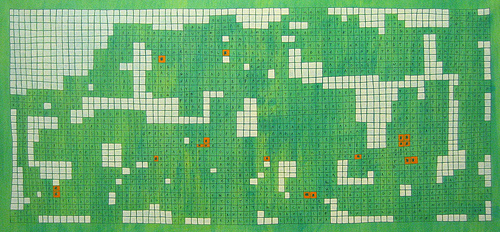 Je Suis France - "California Still Rules"
Oh yeah, and they're also a rock band. From the eerie waters of reverb and the gathering clouds of drums emerges a rock song like a pink camera flash. Poof, and it's over.
[Out May 29th, Site (with more music!)]
[art by dsnhaus]
Posted by Dan at April 11, 2007 1:42 AM