The Truth of Opinions
Please note: MP3s are only kept online for a short time, and if this entry is from more than a couple of weeks ago, the music probably won't be available to download any more.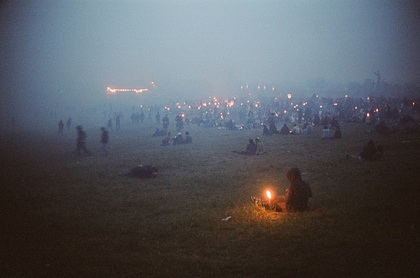 Bill Callahan - "Lapse"
Saying that one is a "God"parent is a pretty archaic idea. But I am a godparent, a godfather to be exact. And by "exact" I mean totally wrong about religion and totally not entirely right about gender. But I am a godfather nonetheless. To little Andrew. Andrew is 11 and is headed fists-clenched into those worst years of his life. I was over at his parents' house (they are close friends) on the weekend, and his older sister was having a sleepover party in the basement. Just girls, they had rented Harry Potter 4 and Mean Girls (again!) both on Blu-Ray, and were planning to stay up all night drinking homemade horchata and singing top 40 in whisper-voices. I noticed Andrew was nowhere to be found and asked where he was. Vanessa, Andrew's mother, shushed me and pointed to the ceiling. "Hear that?" and I did. There was a dull thumping coming from upstairs. "Andrew gets really upset when Brianne is having a good time." I looked up at the ceiling, as if he'd be there, like some fish in a fish tank.
"Why?"
"I don't know, I think it's a phase, he just claims it's not fair. Not fair that she should have fun while he's not having any, I guess."
"But does he want to join in?"
"No. He refuses to join in. He just goes to his room."
"Can I go talk to him?"
"You can try."
I headed up the plush carpeted stairs. Andrew usually talked to me, I couldn't think of a time when he had refused to talk to me, so I was confident. When I knocked and he let me in, I found him bleeding from the head. He had been thumping his head on the wall that entire time, and his knuckles were red from punching the corners of his wood-frame bed. On his wall was a poster for Death Proof and a motivational scholarly poster that said "Never Never Never Give Up!" I held his arms pinned against his sides, and forced him to make eye contact with me.
"What's up, Andrew?"
He was blubbering, barely intelligible. "I just want them to go home, I want the party to stop."
"Why, buddy?"
"Because it's not fair."
"It's not fair that they're having a party?"
"Yes."
This was it. If ever there was a moment where my role as godfather were pertinent, this was it. God doesn't care if you beat yourself to hell, and your sister definitely doesn't care. Too callous. And you don't need to talk about God. Fuck God. Beating yourself up is never never never going to stop people from having fun. Think of every person in the world who's ever lived. Every single one of them has died forever, and still people have fun every single day. Too morbid. Might give him suicidal thoughts.
"I used to beat myself up like this," great, now I'm lying to an 11-year-old. "I used to punch myself and kick myself," --how the fuck do you kick yourself?-- "and cut myself with a razor from the bathroom."
He had clearly never thought of that last one. His jaw dropped a bit and he stared at me with disgust and admiration. I thought, do not touch his blood with your bare fingers.
"I blamed my parents for all of it. I told them they were responsible for all my wounds. And my mother was hysterical. 'What can we do?' she would scream, 'What can we do so that you'll stop?' And when I really thought about this, when I really put my mind to this question, it came to me: nothing. There was nothing too great they could do for me that would make me stop. If I went down there and told all those girls they should be ashamed of themselves for having fun while your head is bleeding, and I told them all to leave and I poured the horchata down the drain and broke the DVDs over my knee, would that make you happy? Would you stop then?"
He paused, his lips red from biting them, his teeth white and wet as he thought.
"Yes."
Now, it's possible he was just being contrarian, he is 11 after all, but I left the room anyway. I went downstairs and put my shoes on. "His head is bleeding," I said as I walked out the door. I heard them running up the stairs, and I got a text about 5 minutes later that I didn't even answer. Godfather fail.
[Buy the Chris Knox benefit album]
(happy birthday, cari)
Posted by Dan at July 27, 2010 1:03 AM