The Wonderful Video Contest
Please note: MP3s are only kept online for a short time, and if this entry is from more than a couple of weeks ago, the music probably won't be available to download any more.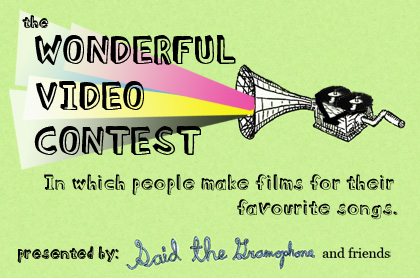 Yes, yes, yes, yes, yes, yes.
It's been in the works for many months, but it's finally here: The Wonderful Video Contest. We at StG know that you, the readers, are not just passive music dabblers. You may not have a giant music collection, or even listen to music very often, but if you're a reader here, music has an effect on you. You have memories, moments, tingles and sparks associated with music, it's a part of your life like any other. And we have decided to throw a contest to celebrate that.
We want you, the Said the Gramophone reader, to make a music video. Make it for any song you've ever loved, the one song that changed everything, or even just a song that inspires you cinematically. Make it a story, make it a poem, make it an experiment, just make make make it. It doesn't have to be slick, it doesn't have to have money in it, it just has to be beautiful, honest, great. The first and golden rule: make a video you love for a song that you love.
This contest is open equally to professional and amateur filmmakers. I know some of you readers are utterly wonderful film artists, and we're asking you (through the paper-towel tube of prizes prizes prizes!) to make us a labour of love. I know you're familiar with those, and I know that at the end of the day, those are why you're here anyway. Think of it as a reason to start a project that will feel fresh in your lungs.
On the other hand, you may have never made a movie before, and that may be intimidating. But if you've ever wanted to, now is the time. Music videos are short, they're as much or as little work as you want, and the whole process of making a movie, especially when it doesn't matter, is great fun. We were inspired to hold this contest because of a couple of unsolicited submissions, which were so beautiful, and fun, and the kind of great that we're talking about, that we had to know what else you readers would have in store for us. The second golden rule: everyone will be judged equally to a standard that has nothing to do with experience at making music videos.
And the winners are in store for some seriously astounding prizes. The Wonderful Video Contest is sponsored by, is in cahoots with: 4AD, Absolutely Kosher, Arts & Crafts, Dead Oceans, Dreamboat, Jagjaguwar, Matador, Merge, Misra, Oddica, Polyvinyl, Rough Trade, Secret City, Secretly Canadian, Sennheiser, Sub Pop, Vice, and Young God Records. There are cds, vinyl, signed stuff, extremely rare, limited-run singles and 7-inches, limited edition posters, a one-of-a-kind art calendar, premium headphones, even a special birthday phonecall! We're not kidding around here, these are BIG prizes. Everything is outlined in detail (including rules and fine print), on the main contest page.
How To Enter:
1. make a music video
2. upload it to a web-based video outlet (like Vimeo, Dailymotion or YouTube)
3. send an email to videos@saidthegramophone.com that points us to it so we can watch it.
These are videos from gramophone friends that inspired us to hold this contest. These are not entries, but they're a further example of what we're talking about.
Ola Podrida "Lost and Found" (by Todd Rohal)
Jerome Minière - "Trains" (by Dan Popa)
Herman Düne - "Suburbs With You" (by Cassandra Long)
Sunset Rubdown - "Us Ones in Between" (by Dan Beirne (if we can do it, you can do it))
Feist - "My Moon My Man (Boys Noize remix)" (by Sofia Szamosi)
Wolf Parade - "Shine a Light" (by Matt Moroz)
and lastly, note that The Wonderful Video Contest closes February 5th, 2008. So spend your holidays listening and dreaming, and then get down to work, because we're already excited to see your results.
Posted by Dan at December 11, 2007 2:25 AM