THERE ARE WHALES
by Sean
Please note: MP3s are only kept online for a short time, and if this entry is from more than a couple of weeks ago, the music probably won't be available to download any more.
Los Campesinos - "You! Me! Dancing!". Last December I wrote about an earlier recording of this song (a track that made by top 50 songs of the year), but this new version is rocketship to that one's horse-drawn carriage. It was recorded by Dave Newfeld, he of Broken Social Scene and You Forgot It In People, one of my favourite producers working today. And the finished result is a frantic mess, a deafening pop song, a band firing on twenty cylinders & adding new cylinders as they go. An electric guitar allumeuse, a bass-drum bricklayer, a glockenspiel chandelier, voices haranguing a violinist. It's like The Delgados are still around, ten years younger, stomping on the upper floor of a barn until the whole building collapses.
In Susan Cooper's The Grey King, Will, Bran and the Old Ones must hold back The Dark, all of 'em, even the mountain Cader Idris itself. And they do it: through magic, will, determination. But they should have got Los Campesinos on the phone; called them up from Cardiff to Gwynedd; and let them blaze their joy through the shifting ranks of evil, cleaving grief like a hot knife through butter.
They're a group that makes me wish I was in a band; it's a song that makes me wish I was a piece of vinyl.
[buy]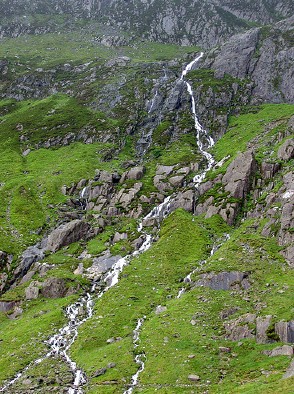 Sandro Perri - "Dreams"
Fleetwood Mac - "Dreams"
When Stevie Nicks sings "Dreams", she's still trying to seduce him. There's something tilted in the way she sings "Who am I to keep you down?" She may not mean for the song to be so barbed, such an elbow in the gut of Lindsey Buckingham. But as she sings of a heartbeat that "drives you mad / in the stillness of remembering," the drum-beat is maddeningly clear, an over-and-over that brings you to rest in just that place. And she sounds very good, singing it. And you wonder what it would take to have the chance to harmonize with her.
But when Sandro Perri plays "Dreams", the drums are sparse - the heartbeat itself has almost been forgotten. It's the chorus - fleeting, familiar, gorgeous - that represents the stuff which has been lost. And it's his voice, and the guitars, and the wide open sounds. It's a fitting dream-sound, and there's nothing pointed in it. It's a eulogy without subtext. It's a sadness. He's more bard than former lover, singing the melancholy instead of an ardour.
(many thanks to Shane for the Sandro Perri song)
[buy Fleetwood Mac's Rumours / I highly recommend(ed) Sandro Perri's first EP, but unfortunately "Dreams" is from a limited edition tour-only CD-R]
(photo of Cwm Idwal by Dave JG)
Posted by Sean at June 25, 2007 12:58 PM