these boots were made for walkin'
by Sean
Please note: MP3s are only kept online for a short time, and if this entry is from more than a couple of weeks ago, the music probably won't be available to download any more.
Goddam Guest - "Pass the Word [Beastie Boys/Beatles mash-up]". A big-eyed, bright-faced mash-up that takes rap and breaks from "Pass the Mic," crooning vocals and organ from "The Word". It's so energized, so bright orange. The Beatles step out hand-in-hand, moptopped sidekicks to the spastic Beasties. The percussion is a machine of gum and string - I love the way the piano drops in, the interrupted "Heyyy-". It's a track that's better than either original, and by the time the MCA is yelling over the organ, back-and-forthing with the chorus, I've forgotten that it was ever any other way.
Nancy Sinatra - "Baby's Coming Back to Me". A new track from Nancy's upcoming record, written by Pulp's Jarvis Cocker. While the song is full of steel guitar sighs, it's the sound of someone lying back in her chair, full of weary relief. The lyrics are definitely Cocker, all wry romanticism, but the Pulpish pomo strutting's been stripped away: "He was just sleeping somewhere / and now he has come to hold my hand." Nancy lets the song speak for itself; she's liquid and happy at her baby's homecoming. "I feel like I am surely dreaming." There are only hints of her underlying resolve, the strength in the emotion. At the close of the song, it's unsaid but clear: if her baby reneges on his word, does not "come back," Nancy won't be sadhearted - she'll be mad. Nancy Sinatra is out September 28th, on Sanctuary Records/BMG. Amid tracks by Morrissey, Jon Spencer, Steve Van Zandt, and another by Mr Cocker, the other clear stand-out is "Burnin' Down the Spark," with Calexico.
---
Here is a picture of a jellyfish: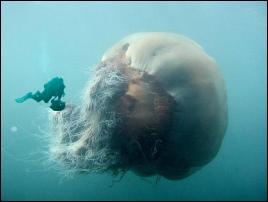 ---
I've been writing Said the Gramophone since the spring of 2003, but on September 23rd, I set off for a three-or-four month tour around Europe. During that time, the blog will be left in the capable hands of Jordan Himelfarb - musician, critic, compadre. He will bring an entirely new outlook to the table - different tastes, different knowledge, different words. I'm excited, and you should be too.
We begin a two-week countdown, then, before I pass the reins to Jordan. Hopefully I'll be able to pop my head in the door during my holiday, but after the 23rd, it's unlikely you'll see much of me until 2005. Consider this a head's up.
Furthermore, while Julian and I backpack around, I'm hoping for the opportunity to meet some of Gramophone's international readers. I've heard from many of you, but if you live in one of the following cities and might be willing to show us round, put us up, or even just grab a drink, I'd be delighted to hear from you. The cities where we have not yet found friends: Glasgow, London, Belfast, Tallinn, Riga, Krakow, Prague, Bratislava, Zagreb, Sarajevo. (People in Dublin, Cork, Ljubjlana or Budapest could drop me a note as well.) I truly appreciate everyone's hospitality.
More good music this week - stay tuned!
Posted by Sean at September 6, 2004 1:37 AM