THIS IS A CEZANNE
by Sean
Please note: MP3s are only kept online for a short time, and if this entry is from more than a couple of weeks ago, the music probably won't be available to download any more.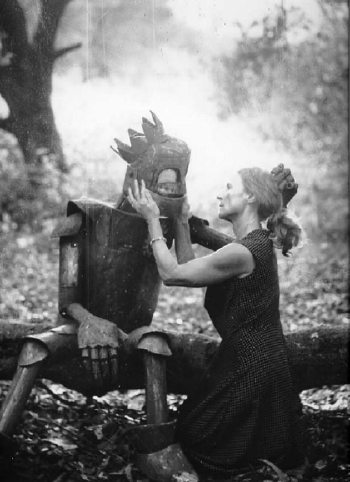 The Modern Lovers - "Girlfriend". You can't understand the having of a girlfriend except in having one. Jonathan Richman slurs this wisdom, misspelling the word "girlfriend", and yet still he's right.
well first I'd go to the room where they keep the Cézannes
but if I had by my side a girlfriend
then I could look through the paintings
I could look right through them
because I'd have found something that I understand
He says it better than I can, here or anywhere else. Certainly better than I can at the moment, being without girlfriend. (Hi!) Writing about this song is hopeless, really. I should just do like the bassline and mosey.
But look let me just give it a quick half-a-shot. (What's the bother, it's just a blog.) There's something indescribable about the having of a girlfriend, in the La and Hush and She of it. It's something like the particular sweetness of a slice of flush melon. There's something in the beauty and the motion of her, the closeness and the way she can move away. Richman catches some of it in not spelling the word, in leaving it as "g-i-r-l-f-r-e-n", as something casual and sexy and roll-off-the-tongue and familiar and cool and smiling. "Girlfren" is like the name of the last bird you spot on a birdwatching trip. It's like a certainty that you're a long way from being able to totally remember. I mean listen to that garage solo. Fuck.
I'm not sure the same truth is true when it comes to boyfriends, or wives. Perhaps some men or women in our audience can tell me their thoughts.
[buy the reissued Modern Lovers debut]
---
Souled American - "Ringside Suite". It's not so much a medley as a quilt: handsewn patches stitched to the sound of a broken metronome, to melting clocks. "Come on / cheer / happy day!", he sings, like he's considering where the grass is greener. A dirge and reverie, "Paint It, Black" and a one-footed jig. I can't figure out if it's a summer sound, or the song you croak from under four feet of heavy white snow.
[buy the marvelous Yeti 4]
Posted by Sean at September 5, 2007 7:46 AM