Threshold
Please note: MP3s are only kept online for a short time, and if this entry is from more than a couple of weeks ago, the music probably won't be available to download any more.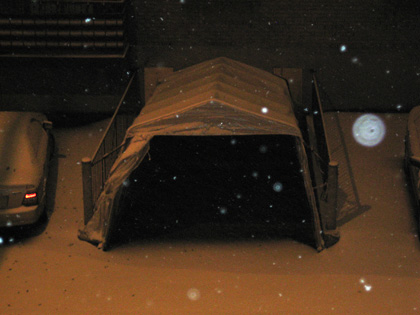 Last opened: About A Year Ago
Duration: 14:41
First snowfall and a backpack. Caught in late November, hitchhiking is a lonely pursuit, like trying to win a game of chess against yourself, or even trying to lose. Darkness rests on your shoulders heavier than all your belongings put together, and I even own a car someplace. Impounded. I imagine it now, surrounded by pacing dogs, the windows blown out, or smashed in, and snow along the insides of the doors, sort of melting and dripping onto the seats and floor. I own a coffin too, that's something I don't tell many people. I came into a lot of money after an inheritance and I bought a coffin for myself. Can't quite remember what I was thinking, but now that I've done it, things feel a little more redundant, like I'm doing or saying all sorts of "extra" stuff. But everything I do feels very conscious, very much my own choice. I'm working for myself, in a way. So I can stay out here, my shoes getting a ring of wetness and my jacket shaking nervously like it's about to cry out of fear, and my hands cold and stoic at my side, too proud to set the pack down and get out their gloves, in the middle of the night, because my boss is making me.
[Buy]
Gillian Welch - "I Dream A Highway"
Last opened: --
Duration: --
First snowfall and a milkshake. 12-year-old Bridget leafs through the classifieds; houses, jobs, cars, furniture. Her first cell phone rings in her pocket, but it's her dad so she doesn't answer. A sip of the milkshake and a look out the window. People hugging themselves walk like they're always almost there. The phone rings the message ring and she starts the wordsearch. "Holiday", "gargoyle", "bun", "upstart", "lesson", "righteous", "gray", "theatre". Her boots swing and kick the side of the counter. The waitress smoking at the end looks up from her phone call. Looks away. Bridget goes over her homework in her head. Her cell phone rings again. It's not time yet, though. She'll wait the whole morning, and however many mornings it takes, until it's cold enough. Once it's cold enough, for the ice highway, then she's likely to believe a phone call. But not until then. Wouldn't believe a word.
[Buy]
Posted by Dan at November 25, 2008 2:30 AM