TONIGHT'S EPISODE: MARRIAGE, MAJORITY & MURDER
Please note: MP3s are only kept online for a short time, and if this entry is from more than a couple of weeks ago, the music probably won't be available to download any more.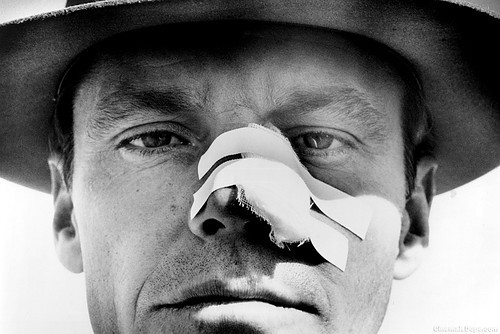 The Bugs - "Theme from 'Do Raha'"
Richard Buckner - "Traitor"
Brutal Knights - "Government is Asshole"
Connie ran naked through the dark, wet woods at night. She ran panting, bloodied, and naked. Lit shiny by the moonlight. If this were the only possible world, then it must be the best, and also the worst. Branches nicked her naked flesh and drew more blood. The whites of her eyes gleamed like fireflies, her teeth like ripples catching light. If something is chasing me, it will eventually catch up to me, and running is pointless. Twigs snapped under her bare feet. If nothing is chasing me, then running is also pointless, as I am safe. As the branches got denser, the going got rougher. And still I am running. Running is the only thing that makes me feel like I have any control at all. A rusty can, discarded from some party or some hunter years before, sliced her foot open, and Connie began to limp, still running, still bleeding. So it is true that something is both chasing me and not chasing me, because I am ignoring both possibilities. The nicks and bruises, stopped up beating and clotted with fear, began to look like animal print. It seems clear to me now that my running has ceased the existence of any world whatever, since all possible states of affairs have no effect on my behaviour. Connie stopped and rested a moment, her hand upon a tree. But her heartbeat through her fingers made the tree feel alive, a predator, and she continued running. This is not the best possible world nor the worst possible world, it is no world at all, it is the absence of a world. It is the most boring Genesis, a revelation that in fact no work has yet been done at all; no compass, no conquest, no trade.
[Pakistan: Folk and Pop Instrumentals 66-76 available from Sublime Frequencies]
[Buckner's Our Blood due out in August]
[Brutal Knights' Feast of Shame is 8.00]
Posted by Dan at May 4, 2011 2:20 AM