Trans Parents
Part 1
Please note: MP3s are only kept online for a short time, and if this entry is from more than a couple of weeks ago, the music probably won't be available to download any more.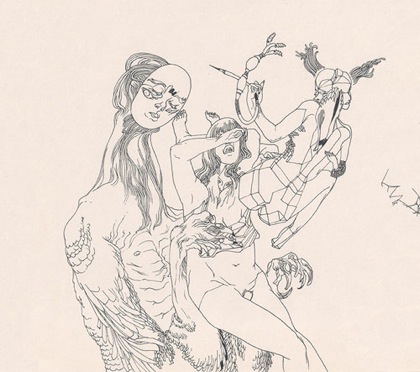 The Mint Chicks - "Crush (Chris Knox cover)"
When I was 11 years old, my parents switched genders. We were living in Rhode Island at the time; me, my two younger brothers, our dog Temper, and my two parents. My "mom" became my Dad and my "dad" became my Mom. It sounds like the premise to a stupid sitcom, but it really happened. Right after they told us that they were both going to undergo sex reassignment, I remember my brother still had ice on his lip from falling off a skateboard in the driveway, and they took us all to Red Lobster for dinner. It was the first time I ever ordered an appetizer.
It was a hard 5 years after that. Hardest for who is difficult to say, so perhaps it's fair to say it was equally hard on everyone, or equally easy for everyone. My youngest brother dealt with it the best, which was that he didn't let it change his behaviour at all. My younger brother in the middle started acting out fiercely and was violent towards a lot of his peers. I smoked and drank but mostly just internalized everything. I'm convinced that none of this retaliation stemmed from any hatred of our parents' decision, we have always been a very close family, but it was the outside world that made things difficult. The questions. The constant, awkwardly phrased, pausing-before-looking-around, questions. But even now I don't blame them. The first question people would ask (well, the first intelligent question) was "how did this happen?" How was it possible that two people, two individuals, could simultaneously come to the same life-altering realization at the same time? I was always told the official story: We always knew. Kind of hard to argue with.
So they underwent the surgeries and the hormone therapies and they essentially turned their lives upside-down, or rather, rightside-up. They independently lost the majority of their friends, kept a few close ones, and together they gained a lot of new trans or gender-neutral or "identity sensitive" (my Mom's term) friends. At first it brought them so much closer together. It was as if, in the changing of their respective genders, they somehow met in the middle before crossing to the other side, and their identities became indelibly enmeshed. It was like a physical manifestation of them having shared the most intimate elements of their lives. I heard my Dad say one time to a minister who was visiting the house, "It was like she gave me her masculinity, and I gave her my femininity." At that moment they looked strange, though, I remember they were holding really fancy cocktails, with big pieces of fruit and mini umbrellas sticking out.
Things weren't as perfect as all that, however, they divorced when I was 16. It was 1999, and they had told us on Boxing Day. Needless to say it was a very strange Y2K New Year's for me. I remember hoping that the world would actually end in some giant computer glitch. Like pulling out the wrong plug by accident and your computer just goes dead, I wanted that to happen, for the world to just count down 5-4-3-2-1 to its own--bzzt!--flickering abortion. But it didn't. Banks still functioned, planes still flew, things kept working. And my parents kept getting divorced.
[This story, from an anonymous contributor, will continue on Friday]
[Please buy Stroke, the fund-raising album created especially to support Chris Knox through his recovery. With artists like Bill Callahan, The Mountain Goats, Will Oldham, and Jeff Mangum.]
Posted by Dan at February 16, 2010 2:39 AM