TWIN SISTER
by Sean
Please note: MP3s are only kept online for a short time, and if this entry is from more than a couple of weeks ago, the music probably won't be available to download any more.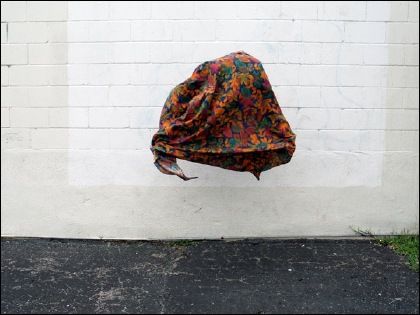 One of my favourite recent discoveries is Twin Sister, a band from New York.
Twin Sister - "Ginger". Wake up with your redheaded lover; count their freckles; make a peppery omelet with whole mint leaves; pull on sweaters and jeans; pull off the sweaters and fool around some more; go for a walk; gravel in yr boot; ice cracks; clouds like stuffing come loose; cars spit salt; a boombox on a windowsill, "Maps" all sloppy-booming; spanish plums; turkish nectarines; canadian chewing gum; unlocked doors; sweaters off; watch the Breakfast Club; open the french doors; stand on the balcony, imagine where the ivy will grow; and later, beside 418 freckles, you dream.
Twin Sister - "I Want A House". The first half of this song is about how good it would be to move in with your lover. It's coo and thump, swing and lick; it's blue and rose. And then the second half of this song is about what it's like once you've moved in. It's a paradise in windchime and bassline, hair on pillow and ice in glass. I can't help but imagine Daft Punk passed out, unconscious; and in that The Diving Bell and the Butterfly reverie, laying in bed, the sun touches the drapes, touches the floor, leaves fingerprints on yr chest.
Twin Sister is a band that makes beautiful, reaching, hot music. All of their superb Vampires with Dreaming Kids EP, which has dry grooves and wet spots and even British folk fingerpicking, can be downloaded at their website. They are also documenting the musical process, posting snips of songs and videos as these songs and videos are made, trying to be "transparent", like ghosts, or memories, or lace.
They play New York's Lit Lounge on March 7, and the Stood @ SUNY Purchase on April 4.
(photography by the inimitable William Hundley)
Posted by Sean at March 2, 2009 12:29 PM