TWO SONGS ABOUT A KIND OF FAILURE
by Sean
Please note: MP3s are only kept online for a short time, and if this entry is from more than a couple of weeks ago, the music probably won't be available to download any more.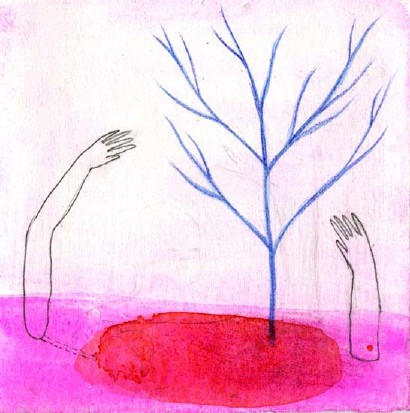 The Leaning Towers - "Rich Enough to Ignore It". In music, in art, the why-didn't-wes are rarely meted out like this. Usually it's dragging feet, dusty drums, a weary man hounded by flashbacks. Here: tambourine, tuba, synths, fanfare, and of course that golden guitar-line. The guitar never leaves the moment of open possibility; it curls back over and over it, like a life can always be remade. The song seems... happy. Resigned to its regrets, comfortable in its shoes. Nostalgic in a pool of warm tender sun. "Probably should be singing redemption songs / instead of filling out exemption forms."
[download The Leaning Towers' entire album]

Miranda Lambert - "Desperation". This song's beautiful and low-key, and it's about stuff that pop-songs usually keep secret. Truths rarely sung: that persistence is dangerous, that sometimes the only reason we hope is so we can forget, that often we love half-heartedly. Over drum-thump and guitar-glitter a country-pop princess explains this, subtle truths in simple words, and at the end of every chorus her advice falters - at the end of every chorus she can sing just one thing, that she's still "desperate for you". And I don't know, it's beautiful and sad & in its way wise, but I wonder if perhaps the greatest kindness "Desperation" offers is just in its use of "you". A song for the lonely, and its narrator longing for "you".
[buy]
---
The remarkable artwork of Betsy Walton is currently in exhibition at the Compound Gallery in Portland. You're looking at some of it above.
Posted by Sean at June 11, 2007 12:40 PM