Typical Tree Behaviour
Please note: MP3s are only kept online for a short time, and if this entry is from more than a couple of weeks ago, the music probably won't be available to download any more.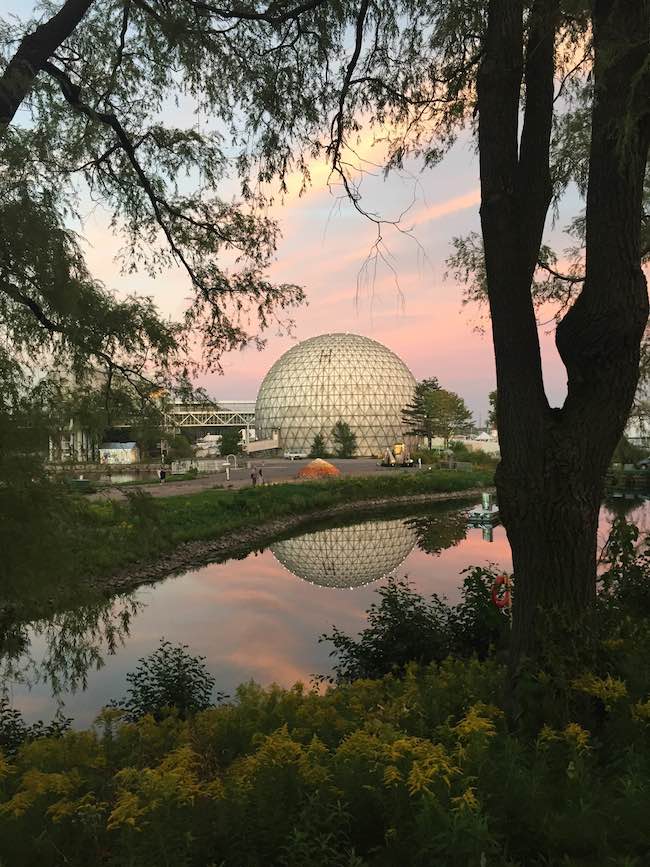 These days I live with my friend Layne. Phrasing it like that kinda makes it sound like we were friends first, then lived together, but we didn't actually know each other at all until I moved into her house 2 years ago, sight-near-unseen, in a hasty decision made after a deep breakup that could have gone terribly awry. We barely knew each other then, but Layne still took me to IKEA when I moved in, and then helped me put together the bed I bought there once we got home. She's like that, equal parts capable and open - the kind of person who will drive you across the desert just because you thought it might be fun to go look at some art in Texas, and then while you are there, strike up a conversation with the local giving you a tour of the Judd sculptures, and then somehow next thing you know you will find yourselves at a party at the edge of town in an airstream trailer against the most beautiful sunset you've ever seen. I am not like this. I'm a shy person, a note-taker. I wait and see, stay quiet. When you're like I am, it's important to know people who are not like you. Who open doors and make things go.
For the past few months I have seen Layne less and less as she's spent more and more time putting together this big art festival, the most ambitious thing she's ever done. Before today, I knew a lot about it: that it was on the island that used to be Ontario Place, land of a thousand childhood daycare-field-trip memories; that it was full of site-specific art; that she was excited for it; that she was endlessly busy putting it together.
But today I actually went, and realized I hadn't really understood the magnitude of the whole project at all. Ontario Place, an amusement park on an island off Toronto's lakeshore, has been abandoned for 5 years. It feels a little grown-over, and now, thanks to this festival the whole island is covered in beautiful, weird art that feels both of the place and apart from it - just like all the buildings do against the landscape, just like the way nature and time have begun to encroach upon those same buildings at the edges. All through the park there are sculptures and sound pieces and videos, galleries built in abandoned pavilions, floating docks out on the water where artists perform, and somehow, all of it feels like it belongs to the place. A natural extension. I took a walk down the shoreline on the far edge of the island and saw an array of tiny sculptures scattered across the rocky beach, mixed in with the garbage that had accumulated there over time. I went to the Cinesphere and watched a movie made up of old IMAX footage, past and present leaning into each other. At one point, walking down a path, I glanced absentmindedly up at a man-made cliff and saw a single tree, spotlit, at the top of it. At first I thought it was just part of the landscape, but then - slowly, hilariously - it started to rotate, first one way and then the other. ("Confounding expectations of typical tree behaviour," said the wall text I found posted up on the side of the cave.)
If this were a review of the festival or an attempt at promoting it, I'd probably have to say that I knew its co-creator and then try to make that fact seem insignificant. But since we're here instead, I can tell you something else: having heard about all of this as it was coming together made the whole thing feel slightly, magically unreal - like Layne had conjured this whole place out of thin air, out of the stories she'd told me about it.
Plus, as I walked around, I started to realize that the pleasure of the whole experience was shot through with this other feeling - something less delightful and more uncanny. After I'd spent some time wandering through the forest alone in the dark at 10pm, using different light sculptures as beacons, I realized that walking around at this festival was maybe the first time in my life that I've felt truly, completely safe wandering around a place that felt off-limits. Otherworldly. As an adult human woman I've taught myself (and been taught, over and over and over again), to steer clear of shadows and mystery and darkness. But here, in this abandoned place that's been recovered but not stripped or worked out of its wildness, I felt safe exploring, and it felt like a gift. Like true play, the kind you only really get to glimpse in memories of being a kid, or dreams about it.
All that said, this is still a music blog, and I am still here to tell you about music. In/Future is a music festival too; there are performances by all kinds of bands, and they are good and interesting, and you should check them out. But also, the island makes its own music, and it's one of the best things about being there. All you have to do is walk a little down a path or along the shore, and suddenly you start to hear all these wind-borne duets: the sound of a guy down the beach playing the trumpet weaving in and out of the ambient drone of someone's far-off sound exhibit. A chorus of crickets in the woods alongside the lake, the traffic, someone gently DJing by the main gates. It's all strange, it's all wonderful, and I can't reproduce it here. You have to hear it for yourself.
[buy Popular Songs // go to in/future // photo is mine]

Posted by Emma at September 19, 2016 1:15 AM