Uncle John and Whitelock RIP
by Sean
Please note: MP3s are only kept online for a short time, and if this entry is from more than a couple of weeks ago, the music probably won't be available to download any more.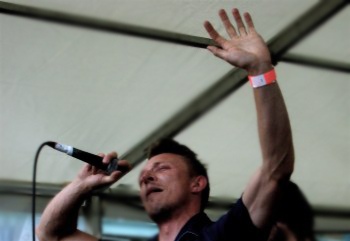 Just over a year ago, I "introduced" Uncle John & Whitelock, and this previous Saturday I stood in Glasgow and watched them play their final show.
They're not a famous band. Within Scotland they are infamous - murmured & shouted about within musical circles, frustration and revelation embodied by 5 young men in black. They started playing around the same time I arrived in Edinburgh, and stopped, now, just a few weeks before I leave. They were my favourite of the country's young bands - deep, vast, incomprehensible, vicious. It was a sound I had never heard before, something Old Testament and forsaken.
Their final gig was at King Tut's, a small room where we were packed tight. They played most of the songs from their (severely flawed) LP, There Is Nothing Else, an album that at 20 tracks discloses too much, and with a clean, almost anemic recording, discloses too little. And yet when played loud your body will catch a flicker of the things that shook the walls whenever they took the stage, the way their "horror r&b" and "dead soul" gave a clear face, fiery eyes, to the ambiguous here-and-there lostness of life in the 21st c. Uncle John & Whitelock's principal principle was: You will die. And they wrapped it in country waltz, blues chords, surf guitar. As James Lovatt cooed, bony grin on his face, before launching into "Baghdadi" for the second-last time: "Merry Christmas. May you all drown happily in your beds."
It was appropriate that a band ruminating often on resurrection was strongest in its final encore. Lovatt threw himself into the crowd and our fingertips, they held him up.
Uncle John & Whitelock - "Aleister Crowley". A song of warning, with low sharp notes and flat beaten drums. Lovatt intones Crowley's name like he's about to summon the black magician, to summon him here to tremble. There are guitars in the front, heaving and shrieking, and in the back of the mix things are simply breaking. Dreams, hopes, necks. Roofs collapsing in the heat.
Uncle John & Whitelock - "Dead Cheerful". A much lighter track; a suicide lovesong in 3/4 time. It's the stuff of Bonnie & Clyde, country soul and the allure of the soft smoky inevitable. The love-affair's born on the internet. "You sent me a jpeg of that beau-tiful face / A two-page diatribe on how you hated and despised the human race." As we drift in a carbon monoxide haze, something beautiful and sleepy, the band bid adieu on all of our be-halves. They need to end it before the sum comes up. "Give up the dog / give up that cat! / say bye-bye fare-thee-well to allll of that."
Mistah Kurtz - he dead.
Uncle John & Whitelock, RIP.
[MySpace]
(A note on race: Uncle John & Whitelock always had a baffling relationship with race, something my friends and I were never able to decode. There are many references to "white" and "black men", and one song, "2-Fiddy'", is sung entirely in a kind of patois - with lyrics about "drug" and "rape fantas[ies]". The band, needless to say, are a bunch of white English- and Scotsmen. It's delicate territory, and the band's occult and martial imagery doesn't help. Me, I think it's some naive artists trying to voice the injustices they see wrought on black americans, but it remains the most troubling aspect of their work, and something I hope one day to better understand.)
Photo by me, at the Hey You! festival I covered for Pitchfork in August.
Posted by Sean at December 26, 2006 10:43 AM