UPSLIDING
by Sean
Please note: MP3s are only kept online for a short time, and if this entry is from more than a couple of weeks ago, the music probably won't be available to download any more.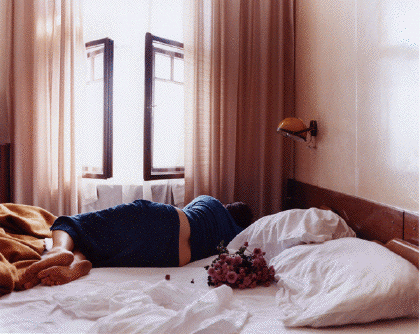 Martina Topley Bird - "Lying". If every affair was this perfect - if every philandering this slow-slinking handclap trumpet-to-organ perfect, - well then society would crumble. Skyscrapers would tumble in slow-motion as their employees streamed out on extended lunch-breaks; bushes would take over lawns and then curl like hands over houses; kettles would whistle forever on stoves; and we'd power our cars with cuckold's tears. Promises would be worthless in this world, and children would not understand. But affairs are not this perfect. Don't take my word for it - listen to Martina. She tells us right there. This song is a lie. [buy]
Denson-Parris Sacred Harp Singers - "The Good Old Way 213T". On Marc 8, 1934, the Denson-Parris Sacred Harp Singers got together in a room and prayed. But the place was bugged. A microphone was there, scooping up every prayer, and their fa-so-la was gulped up like goldwater. The Denson-Parris Sacred Harp Singers sang "hallelujah" and they meant it. There were no histrionics, no s-t-re-t-c-h-e-d-o-u-t ache, just the word "hally-hallelujah", voices chiming, the Denson-Parris Sacred Harp Singers reading their notes and singing it the right, honest way. // There is swing in this song; more than any other sacred harp song I've heard, there is swing. Something jazz in the sloop of vowels. As if it's a psalm for a nightclub on the morning after, pious & hungover & standing in the tinsel. [buy]
---
One last reminder - Montrealers, please come to this show on Friday - celebrating the launch of Inside the Frozen Mammoth. Tune-Yards, I hear, has a new rhythm section.
Just noticed that Skatterbrain has released its first compilation album! Silkscreened, handsome, and filled with the finest indie-pop. Also: the price is a steal.
And finally, the Burning Hearts song at Shake Your Fist is absolutely terrific. Finnish pop that swerves rose, and as Amy says, I don't even want to know you if you don't immediately love -- or can't come to love -- this song
[photograph by Aino Kannisto]
Posted by Sean at February 5, 2009 10:46 AM