Valentine's Fork
Please note: MP3s are only kept online for a short time, and if this entry is from more than a couple of weeks ago, the music probably won't be available to download any more.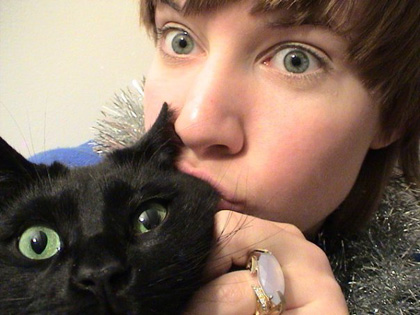 Annie Lennox - "No More "I Love You's""
This song has been in my head for about 3 years. It feels like velvet covered in rhinestones, which is weird because that was the aesthetic of the previous album, but it reminds me always of valentine's day. Like most holidays, it has grown into an adult that the child said it would never become, it's kind of a tacky version of fancy, a bit tragic, but still with shades of humanity. Which is what this song embodies. It's got a beautiful idea, and the phrase "language is leaving me", and a lovely chord progression, but it's also got that organ that's like a saccharine veil over the whole thing, and it's got tons of superfluous trimmings, like that terrible section where she talks in a kid's voice about monsters. But it's how this song ought to sound, it makes sense within the parameters set out, so I guess valentine's day kind of makes sense, if you really squint. [Buy]
--
WONDERFUL VIDEO CONTEST NEWS:
First of all, I'll say that we were completely amazed with the turnout, and the quality, for the contest. We received over 100 submissions of hand-made movies that it was a complete pleasure, a joy, to watch. We have finished the judging process and winners will be notified soon. We will take the next 3 Mondays to divulge all the winners, there are that many, and they're that good. It was a huge success and I can't wait for you to see all this great stuff.
During the run of the contest, the National Film Board got in touch with us and wanted to include prizes of their own, and we were more than happy to oblige. So in addition to all the prizes being won, every winner will receive a DVD of the Oscar-nominated short animation Mme. Tuttli-Puttli. It's a mysterious and sumptuous stop-motion that had me marveling and wide-eyed the whole time. A perfect little bonus, for which we're very grateful.
To all who submitted, thank you so much for putting yourselves to so much effort for this small community of like-minded music lovers. You truly get what we're trying at.
Until Monday, then.
--
(photo: uncredited)
Posted by Dan at February 14, 2008 3:00 AM