West To Easy
Please note: MP3s are only kept online for a short time, and if this entry is from more than a couple of weeks ago, the music probably won't be available to download any more.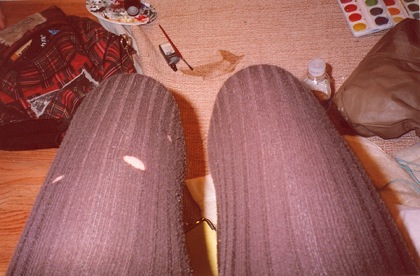 Nana Grizol - "Cynicism" (removed at band's request)
"My daughter will lead us in grace," he said it nervously, the way you warn someone before they go into an occupied bathroom.
The room went silent and everyone joined hands, some reluctantly and some calm. Some looked down at the slope of the buttons on their shirt, others at the napkins. One woman cast her hair back like she was putting her face under the shower spray. Someone cleared their throat into their hand and gave it back to their neighbour. One person sighed in the momentary pause. Another looked at the person who sighed, who realised they were being watched and held their gaze into the candle, not sad just constant, as if this were a totally normal thing.
Little Jennie stood up in her pink fleece and flower-print jeans and fish hair clips. She wiped her hands on her butt and joined hands in the circle. She looked around at the table like they were stuffed toys, with the face she thought a mother would have.
"Dear God, may you never ever lose your faith. Thank you. Amen. Goodbye." [Released today]
Life must be easy when you're a fucking idiot. Fucking idiots at the bank, fucking idiots on the street, fucking idiot doctors at the hospital. Fucking idiots can't tell me I can't get better, can't get help. Fucking idiots don't even know what I got in store. Next time I'm stuck behind some fucking slow-ass carriage-pushing idiot on the street, I'm gonna act like a big fucking car, I'm gonna do some pushing and I'm not gonna say sorry. Next time some stupid idiot is mean to me at the bank 'cause all I wanna do is keep people from taking my fucking money, I'm gonna do some taking and I don't mean a breath. Next time some fat-ass lard-ass fucking idiot doctor says it's over I'm gonna throw all 120 daily pills in their goddamn stupid face and I'm gonna take a shit on that wax paper. I need to eat. I need to eat now, rice or honey or bread or chocolate or pepsi and I'll feel better. I need to sleep too. Every single fucking idiot better stay outta my way until then.
Suddenly bumped, in the cold of the slushy sidewalk.
"Oops, sorry." [Buy]
Posted by Dan at January 12, 2010 1:29 AM