What Beauty, What Clouds
Please note: MP3s are only kept online for a short time, and if this entry is from more than a couple of weeks ago, the music probably won't be available to download any more.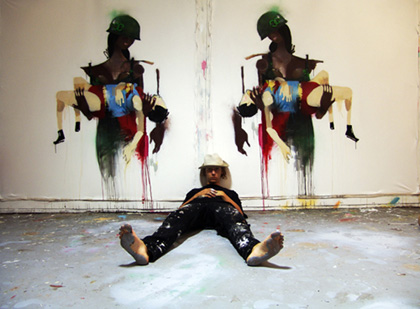 Hologram are unassuming. They're not operating with any gimmicks or tricks or showy selling points. I'm trying to say: they're not interesting. But they are amazing. Simply, with few instruments and little inhibitions, reservations, they have burst onto the scene, meaning my scene, meaning my heart.
Here, in "Blazey Storm", Caroline (drums, voice) comes taw-tawing down the street just totally swinging, singing, pursed. No indication, ever, is given to just how good things will get. That's what I love about this band right away. It's like when you play a level in Contra so much that when you're finally doing it flawlessly, you kind of wake up halfway through and you're like "woah, I'm still not making any mistakes!" That's what this is like; no mistakes. Listen, really, none.
This is literally a hologram. It's hard to see, you need to be at the right angle, but there it is clearly. See, that's what Broadcast would look like if they were a focused rock band. Yeah, that's them, that's Hologram, out having pancakes at 3am, high-fiving the waitress. They're really "carousing", aren't they? They're really vital, with that steady smashing and that moaning guitar, and those vocals sounding almost like caroling. You'd almost think, as they crest with that lovely pink scream, that you wouldn't be able to pass your hand right through.
[Site]
(photo from The Wooster Collective)
Posted by Dan at February 1, 2008 2:58 AM