WHAT DO YOU RECKON?
by Sean
Please note: MP3s are only kept online for a short time, and if this entry is from more than a couple of weeks ago, the music probably won't be available to download any more.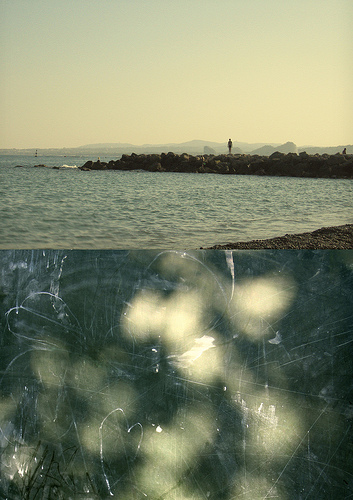 Radiohead - "Reckoner". Instead of heartbeat, I've got heartbeats. Instead of tomorrows, I've got tambourine. Every bang and scatter of drums is another movement of hands. That's what we do, us. We wander & wander, we get lost and try to get found, and we move our hands. From windowglass to desk-top to kitchen table; from handle bars to steering wheels; from bus-poles to tree-trunks. Clasp your hands at your chest, clasp them behind your back. Then in hush you'll move your hands from fumbling to touch, from shoulder, to hand. to hip, to fingers against her cheek. Clasp her hands and keep them clasped with yours. Don't tremble, don't blink. Instead of heartbeat, you've got heartbeats. Instead of tomorrows, you've got tambourines. "In rainbows," Thom Yorke sings, lingeringly, with his hundred reflections; and you can hear what it sounds like to come back to life.
[Photo by the marvelous lilie-melo]
--
Also: Dan wrote a piece on his friend N's band Bad Flirt at ajisignal.com. They have a show on Sunday at La Sala Rossa.
Posted by Sean at October 26, 2007 8:30 AM