What if the Beatles never broke up? • THE BEATLES RELEASING COLLECTIVE
by Sean
Please note: MP3s are only kept online for a short time, and if this entry is from more than a couple of weeks ago, the music probably won't be available to download any more.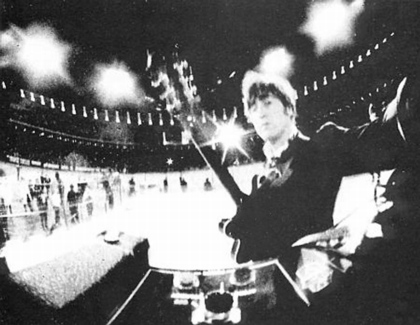 This week, the Beatles' catalogue finally appeared for sale on iTunes. It's funny how this feels like the flood-gates finally opening: at last, we can buy those beautiful songs by John, Paul, George and Ringo! Not just because most of us already have Beatles mp3s, ripped from CDs or as illegal downloads. But because the songs of John, Paul, George and Ringo have been on iTunes for years. Just not their songs together. The Beatles' respective solo material wasn't caught up in the same licensing tangle: Imagine, All Things Must Pass the collective works of Wings - all have been listed on iTunes for years.
But who cares, right? Sure, everyone likes "My Sweet Lord", "Band on the Run" and "Oh Yoko!" - but after the Beatles broke up, "the Beatles sucked". Besides a tiny handful of exceptions, and a single here or there, the Fab Four's post-1970 output is scarcely worth paying attention to.
Or is it?
I'm reading a book that came out last month, self-published by Toronto writer Jeff Walker. Its title is as good a description as any: Let's Put the Beatles Back Together Again: How to Assemble & Appreciate the Second Half of the Beatles' Legacy. That's a 19-word way of saying, Not so fast, kid. Or, Maybe there's something worth saving on that Ringo Starr album.
Jeff argues that the Beatles kept making good music after 1970 - they just didn't make it consistently. The gems are hidden amid the dross, he explains, but today such dross can simply be ignored or consigned to oblivion. Imagine if the Beatles kept making music, just not all together. Alone, or in twos and threes, they went into studio - and then released the best and most Beatlesesque of this solo material as, er, the Beatles Releasing Collective.
This is Jeff's alternate-universe conceit. Allen Klein and Yoko Ono don't wedge the boys apart. A mysterious manager called Albert Zonn (aka "Cap'n Arn'") swoops in and consoles their roiling hearts. Zonn had the psychological acumen to persuade [the Beatles] ... to carry on, in a new form that would address all their separate aspirations.. And suddenly there's room for not just one or two or more Beatles albums - but for 40 years' worth.
Over 500 pages, Jeff creates, curates and defends six "core" albums, 16 bonus CDs, and various LP revisions overseen by the 'Beatles Releasing Collective'. All, in a sense, are imaginary. There's 1982's Moondogs, a kind of Lennon memorial, with songs like Paul's "Beware My Love" and John's "(Just Like) Staring Over". There's 2000's 45, a three-disc set with Anthology's "Real Love" and "Free As A Bird" at its heart. And, um, lots & lots more. Each has been meticulously assembled, sequenced and refined - these are not crude collections of the mop-tops' solo hits. Jeff writes with passion and precision and all the half-crazy focus of a serious Beatles fan.
But is he right? By carefully culling the best of the after-Beatles Beatles, assembling these songs into albums, can you make something that lives up to the legacy? Something worth paying for, one track at a time?
Judge for yourself.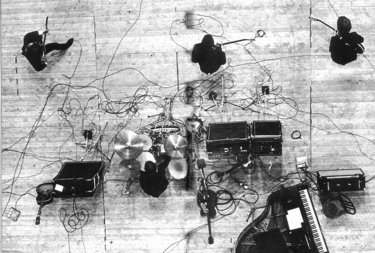 A 'Beatles Releasing Collective' sampler
1. Paul McCartney - "Run Devil Run" (1999)
2. John Lennon - "I'm Losing You (Stripped Down version)" (1980)
3. George Harrison - "Looking For My Life" (2002)
4. Ringo Starr - "Choose Love (live)" (2005)
5. Paul McCartney - "That Was Me" (2007)
6. John Lennon - "Jealous Guy" (1971)
7. George Harrison - "Wah Wah" (1970)
[download entire EP (mirror)]
[buy Jeff Walker's Let's Put The Beatles Back Together Again]
On "Run Devil Run"...
Writes Blaney, "Combining the Poetics of Chuck Berry with the voodooism of Screaming Jay Hawkins, he fashioned a blistering rocker ... Rarely has [Paul] sounded so aggressive on record." For a Beatles original (rather than a cover like "Long Tall Sally"), you'd have to go back to "I'm Down".
On "I'm Losing You"...
[John] began to seriously worry about [Yoko's] dalliances in New York ... "It drove me crackers," [he] remembered, "just long enough to write a song."
On "Looking For My Life"...
You might assume that George was reacting to being stabbed almost to death or to being diagnosed with terminal cancer, but apparently the song recounts an earlier dark night of the soul ... Distress relieved by its very expression.
On "Choose Love (live)"...
Here is Ringo, still rockin' live at the two-thirds-of-a-century mark and still touting the power of love ... This is the only version of the song in the BRC collection.

On "That Was Me"...
The name Iris has two significant meanings for Paul. Cited in this song, the Royal Iris was the Liverpool ferry and showboat on which the Beatles played four times in the early days. And Iris Caldwell was Paul's first steady girlfriend ... Iris recalls one night in a coffee shop with friends when Paul did such a tasteless Lennonesque impersonation of Quasimodo that she dumped an entire bowl of sugar on his head and then bolted. Assuming it was all over with Paul, she arranged a date the next night with George.
On "Jealous Guy"...
John's last public performance outside the US of any song was of this one. He played it while sitting in his suite at a Japanese hotel and was overheard by an elderly Japanese couple. They had wandered in, having inadvertently taken the presidential suite's private elevator. They presumably thought it was some kind of rooftop lounge, perhaps featuring entertainment ... They settled in chairs and waited for some service. John picked up a guitar and softly sang "Jealous Guy" for them. Without a word, they got up and left.
On "Wah Wah"...
Eric Clapton played the wah-wah guitar on the track. (Later he was to give George a real headache by walking off with George's wife Pattie.) With Ringo on drums, the song has a massive reverb-saturated sound, care of Phil Spector, for a massive, reverberating headache ... During the Twickenham sessions, George was getting it on with Eric Clapton's French erstwhile-girlfriend, model Charlotte Martin ... [Pattie] befriended the girl and naively invited her to stay at Kinfauns. Poorly concealed hanky-panky followed, and Pattie left for London to stay with friends. George took full advantage of her six-day absence to see the affair through. He was left with wah-wah headaches in both his marriages, with the Beatles and with Pattie.
Posted by Sean at November 20, 2010 6:32 PM