WHO ARE YOU, VOICE IN HEADPHONES?
by Sean
Please note: MP3s are only kept online for a short time, and if this entry is from more than a couple of weeks ago, the music probably won't be available to download any more.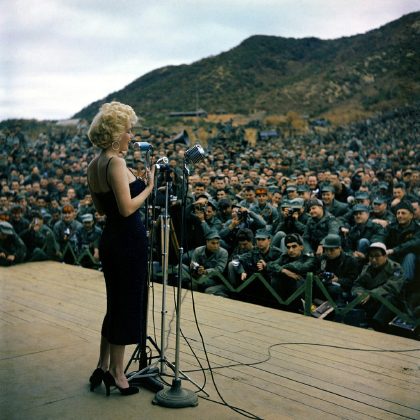 Mount Eerie with Julie Doiron and Fred Squire - "Voice in Headphones".
Bjork - "Undo".
Writing about a song can make it less than it is. But I don't know a kinder way to explain the story of "Voice in Headphones". This is a song about how recorded music - particularly a song called "Undo", by Bjork, - makes Mount Eerie cry. He borrows "Undo"'s chorus, gathers friends to yearningly yell it. "Voice in Headphones" feels like two things: a why? and a thank-you. How does music have this power, every single time? "Who are you, voice in headphones?" And also, thank-you, voice in headphones. As with so many of Phil Elverum's songs, this song is an explanation, an explication, an articulation and working-through of a feeling. Elverum's gift is the way he makes these explorations beautiful. (As if Jacques Cartier or Ferdinand Magellan could move us to tears.) They are tender, wise, flickering. Mount Eerie's "Voice in Headphones" becomes its own object. We listen to this song, feel it move us, and we wonder - Who are you? We think - thank-you.
The album this song is taken from, Lost Wisdom, is by the way one of the best albums of the year.
[buy Lost Wisdom / buy Bjork's Vespertine]
Posted by Sean at October 20, 2008 11:35 AM