WHO MEASURED UP
by Sean
Please note: MP3s are only kept online for a short time, and if this entry is from more than a couple of weeks ago, the music probably won't be available to download any more.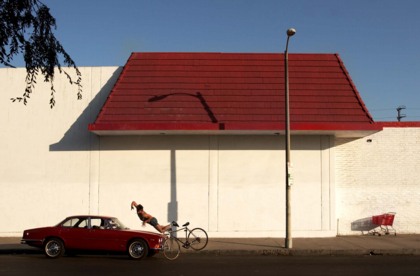 Weezer - "Say It Ain't So (demo)".
The-Dream - "Umbrella (demo)".
Can you hear it? Is it already there? Can you recognize an unfinished masterpiece? Or does a thing only become itself when it is complete?
There are many reasons to wonder these things, whether or not we are music critics. Is the drawing you've made any good? Can it yet become a treasure? Or is all of its potential contained in that first line?
Is he your true love? He who isn't, yet? Will this ever feel like home? Are we all heroes?
By omission, The-Dream's demo of "Umbrella" is evidence of Rihanna's gift, the oft-dismissed gift of the pop-singer: the ability to sing pop. The song is not just the song; there is a swagger and flare to the way she sings it, and its brilliance is in large part due to the swagger, to the flare. And Weezer sound like boys in a garage - no, not a garage, in a cheap rented studio. They enjoy the playing, luxuriate into the solos; but they do not know, no way, that one day an entire generation will know these lyrics. Something is bubb-li-i-i-i-ing behind my back. The things that make this song marvelous, they underplay; the things that are boring, they overdo. And yet they stumbled into this stupid, ridiculous, beautiful thing. There is a kind of Tao in this.
[photo by Ryan Schude]
Posted by Sean at July 26, 2010 12:42 AM