"WHY DO I LOVE YOU?"
Please note: MP3s are only kept online for a short time, and if this entry is from more than a couple of weeks ago, the music probably won't be available to download any more.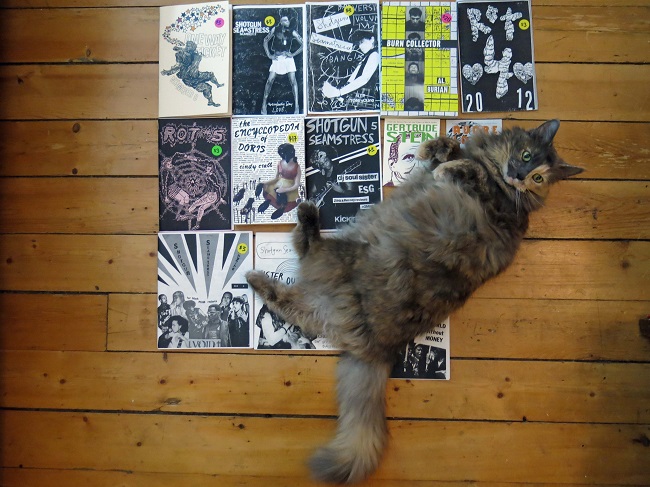 My cat makes noises in the morning. She squeaks and yowls and worst of all scratches the wicker basket on the other side of the room. Sometimes she jumps up on the bed and punches me in the face with her giant paw.

"Why do I love you?" I ask as I get up and step into my flannel-lined slippers.

Every morning it's the same - she demands to be fed.

I always make her wait though. I pull down my stovetop espresso maker from the top of the fridge, fill it with coffee and water, screw on the top and put it on the burner.

I am filled with joy and gratitude every morning. Thank you O durable stainless steel coffee maker. You cost me $24 at Milano and I've had you for eight years of mornings and you've never let me down.

"Meow?" my cat asks. "Meow meow?"

I open the fridge door. "Meow meow meow meowmeowmeowmeowmeow!"

"Get a grip," I tell her. I get out the can of food and slap some of it onto her dish and she's on it like she's never eaten before.

I leave the cat, go into the bathroom and notice some truly ghastly bedhead in the mirror. I can hear my cat scampering down the hall, her feast ended, as I pick up my toothbrush squeeze on the toothpaste, run it under the tap for a second, and then begin to brush.
---
[I was not prepared for the powerful churning bass and perfect hollering vocals on X (Australia)'s first LP when I picked it up at the mighty Birdman Sound last week. Recorded in five hours in 1979, the ingredients of this raging foot-long from the first wave of Australian punk are equal parts piss, vinegar, snot, and spunk. Toronto's Ugly Pop Records wins the gold medal for reissuing Aspirations and X Spurts, a collection of the band's 1977 demos. Get them before they're gone! / buy]
---
This was written in a writing exercise that I lead in Anna Leventhal's class "How to Write Good: The Aesthetics and Practice of Creative Writing" at Dawson College New School last month. Thanks to Anna for inviting me in and thanks to her students for listening and sharing their own writing.

Posted by Jeff at April 7, 2015 9:33 PM