WHY IN GOD'S NAME WOULD YOU CALL YOUR BAND "WHISPERTOWN 2000"?
by Sean
Please note: MP3s are only kept online for a short time, and if this entry is from more than a couple of weeks ago, the music probably won't be available to download any more.
Whispertown 2000 - "Through a Hole". Some songs rely on the alchemy of voice & voice, or voice & guitar. Just the right emphasis, just the right drawl, just the right throat with just the right strings. "Through a Hole" is like this, but bolstered with other things that make a song good: boot-stamps, sing-along, glockenspiel, mild twang, lyrics fired like watergun sprays - quantity over quality, tossing rings to see what catches. It's really good!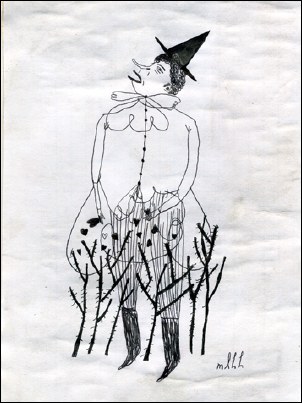 Greg Peterson ft. Fiona Kelly - "How I Got To Memphis". I don't think Peterson ever actually got to Memphis - he lives in New York, far as I can tell. And if he did I don't think he started out in the Arctic. But that's how I hear this song, with its long, slow opening of snow-white noise, then the sunbaked arrival of guitar, voice, horsehairy fiddle. It's a song of slow progress, tortoise over hare, a spirit very different from the Tom T Hall original (or the Solomon Burke cover). A song not of going but of having-gone. A lovesong I'd love one day to hear about me.
(thanks Ben)
[many Greg Peterson recordings for sale here, all at $5, and mp3s too. This track appears on It's Hard to Die With The Piney Wood Blues]
---
Moka's Best of 2006 is a special list, and very different from most others that have appeared. Some very ghostly, potent post-rock and folktronica, much of which I haven't heard. The White Birch track she's posted is truly marvelous - sadly it's on Rune Grammofon, the (great) Norwegian label that charges a fucking fortune for its records. There is now a list as long as my arm of Grammofon records I want and have not mustered up the strength to order. I hope that you have hardier pocket-books! (I went to Norway hoping that their CDs would be more affordable there. Lest you follow the same tragic path: they are not.)
The always-worthy Nothing But Green Lights has released its Top British Acts of 2006, polling a small list of UK musicbloggers (myself included). Last year Girls Aloud won. This year the Top 10 is full of unsigned/small-time acts, which is really pretty cool. (I agree that it's not been a strong year for big-name British acts.) For those who are curious, my ballot's after the jump.
(drawing by Maxwell Loren Holyoke-Hirsch)
1. The Pendulums
This scampering Glasgow gang have gone tragically unrecognised, plowing a crooked furrow between freak-folk, childrens' music and Scottish sing-along. In songs about gnomes, witches and brand new Commodore 64s, The Pendulums make a sound that's at once kindly, daft and breathless. Their debut, Moon Mountain, was self-released this year and it's the absolute opposite of the hipster-folk that crowds most New York lofts.
2. Belle and Sebastian
Strange that this band makes my list this year, but I saw them perform twice - once at the ABC in Glasgow, at the beginning of their tour, and once at the end in an art-space at The Tramway. The first show was lacklustre, sort of soul-less, but the second was the best I've ever seen them. Utterly inhabiting their razzle-dazzle new sound, playing bright pop songs for all they're worth.
3. Las Campesinios!
Who are these people?! And how can I get them to write the new British national anthem?! Like some breathless mash-up of Ballboy, The Delgados and the Go Team!, "You! Me! Dancing!" is enough to make these Cardiff kids one of my brightest hopes for 2007.
4. Uncle John and Whitelock
UJ & W RIP. After storming Mono's "Get Off My Pavement" festival, second only to Herman Dune on a bill that included Arab Strap, The 1990s and a Delgados solo-project, it's been announced that these death-blues merchants are calling it quits. They were one of the most exciting bands in Scotland - despite a lackluste LP - and I look forward to one more blow to the head as they play their final gig at the end of December.
5. Lily Allen
"LDN" was enough to make me sew a little Lily Allen patch to my heart. There's something so lovely, sassy and British to the lilt of her voice; a chip-stain, crisp-crackle, horn-honking and willow-tree pop.
6. Chris Corsano
The gob-smacking American drummer has become a resident of Edinburgh. Free-jazz percussion that left my mind doing full orbits on itself.
7. Tap Tap
Finally a genuine UK take on the yelp rock that's saturated North America of late. And double bonus: it's great. Lanzafame is an album of spirit and bleat, discobeat drums as guitars ring and wrangle.
8. Loki
A rapper that glints with glassy Glasgow glaze: sharp, clever, and full of a Scottish greysky pathos. Fucking ace.
9. Sleeping States
A late arrival to this list, 'breaking' on the internet only at the close of November. He's already in the middle of a label bidding war and it's easy to see why: sleepy urban folk with just the right dose of beats and harmony. Belongs in a bag with Jens Lekman, Grizzly Bear, and Beirut's Zach Condon. A voice to stop sunsets.
10. Camera Obscura
Posted by Sean at December 18, 2006 3:00 AM