WITHERED HAND - GOOD NEWS [contest]
by Sean
Please note: MP3s are only kept online for a short time, and if this entry is from more than a couple of weeks ago, the music probably won't be available to download any more.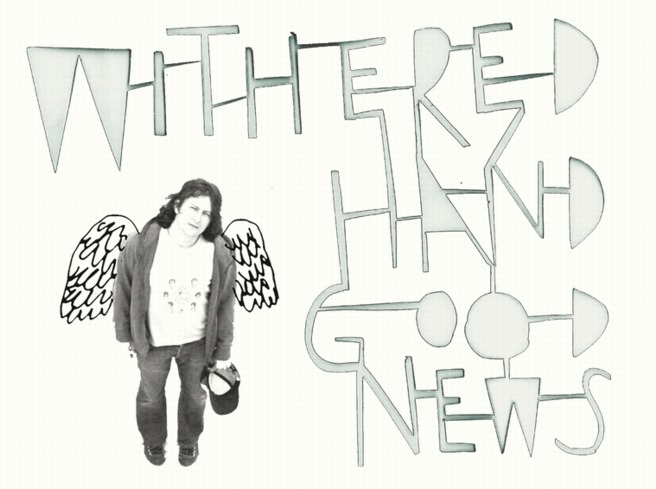 It's been 18 months since I first wrote about Withered Hand's debut LP, Good News, and this terrific track. But it's taken 18 months for North America to catch up with what my Scottish friends have been saying for yonks, in emails and crackly Skype calls: Withered Hand, aka Edinburgh's Dan Willson, is the realest of deals, a songwriter with a quiver full of arrows, a voice that, er, lunges for the throat.
"Hard On" is a cover of a song by Charles Latham. Ultimately, I wrote, it concerns erections, but mostly it's about the intersection between yearning and doing. Withered Hand has realised the sound of yearning: it's this, simple and splendid and fierce. It's a chant that keeps changing, with words like flashpaper. Listen to the way he sings man, good, could, knife, car, go, FM radio, guitars, Thin Lizzy, pen, John Updike, hard-on. Each one, carelessly cast, could start a housefire.
"Hard On" is scruffy and sincere, but neither banal nor precious. Willson sings it like he's learned some things on lonely roads and bathroom walls - he hasn't yet figured out how to live, but he's figured out the way living is gonna rhyme.
On March 15, Absolutely Kosher - the label which helped along the Wrens, the Mountain Goats, Frog Eyes and more - is reissuing Good News in the United States and Canada. To celebrate, they've given us some Withered Hand goodies for a contest. Inevitably, we have one copy of the vinyl LP up for grabs, but also a second, grand prize: Absolutely Kosher's deluxe Good News box set, which includes the CD album, another disc with Withered Hand's preceding EPs and unreleased material, buttons, stickers, and a signed note and drawing by Mr Willson himself. All this, in a hand-numbered and decorated box. There are only 200 of these things, and, um, one of them is for one of you.
To enter our Withered Hand contest, leave a comment on this post with an imagined headline, all in caps. This headline should be the headline for the best-ever piece of good news. Good News, get it? Here are some examples:
WORLD PEACE
SHE LOVES YOU
ICE-CREAM ELECTED KING
Enter as many times as you like, with separate comments. Contest closes at 11:59pm on Wednesday, March 9, and we'll pick our two favourites.
UPDATE: CONTEST WINNERS!
There were 175 extraordinary entries for this contest - view them all. Such amazing, hilarious, poignant, ridiculous headlines. I wish we could have given out twenty prizes, but alas there are just two. Here were my favourites:
LOTS OF DANCING (Bries)
SEANCE ELICITS NEW COLLABORATION FROM GEORGE HARRISON/GRAM PARSONS/ALEX CHILTON AND ANYONE ELSE YOU'D EVER WANT IN AN AFTERLIFE SUPERGROUP; B/W NEW MITCH HEDBERG ROUTINE (glg)
IT ALL LASTS AS LONG AS YOU LIKE (Ronnie)
A HARD ON DOES MEAN YOU'RE IN LOVE (Julian)
TODAY IS BETTER THAN YESTERDAY (karpe)
SHE'S DOING JUST FINE (Billy)
GROUCHO MARX SHOOTS ELEPHANT IN HIS PAJAMAS (john governale)
FARM OUT IN THE COUNTRY FOUND, ALL PETS RETURNED TO THEIR OWNERS (matt)
YOU WERE RIGHT! (Nicola)
SAD MAN WINS GRAND PRIZE (noone)
GOD ACCEPTS YOUR RACQUETBALL CHALLENGE, WANTS TO "MAKE IT INTERESTING" (Freezerburn)
SECOND PLACE: PRESIDENT DECLARES BONUS LEVEL (ryan)
FIRST PLACE: YOUR PARENTS WILL LIVE FOREVER (josh)
If you missed the contest, never fear: buy Good News or the box set. Listen in full on Bandcamp. Withered Hand is playing SXSW and a couple of west coast US dates. Visit his website. Thanks to Shaker Maker PR and Absolutely Kosher for this invitation.
Posted by Sean at March 3, 2011 10:00 AM