BEST SONGS OF 2013
by Sean
Please note: MP3s are only kept online for a short time, and if this entry is from more than a couple of weeks ago, the music probably won't be available to download any more.
These are my 100 favourite songs of 2013: songs I love more than as much as day-hikes & shave ice & sudden breakdance breakouts.
I follow just one arbitrary rule: that no artist may be listed twice.
I made similar lists in 2005, 2006, 2007, 2008, 2009, 2010, 2011 and 2012.
The best way to browse this list is to click the little arrow beside each song and then to listen as you read. The things you like you can then download by right- or ctrl-clicking with your mouse.
You can also download the complete 100 songs, in three parts:
Said the Gramophone is one of the oldest musicblogs.
We try to do just two things, well
:
finding good songs
, and
writing about them
. We don't mess about with tour-dates, videos or advertising. We post new songs and old songs, write clumsy dreams of what we hear. If this is your first time here, I hope you'll
bookmark us
or
subscribe via RSS
. You can also follow me
on Twitter
.
Of these 100 songs, approximately 62 are fronted by men, 38 by women. 42 acts are mostly American, 29 are Canadian, 12 are British, 4 are Australian, two each from France, Mali, South Korea and Sweden, and there is one Mexican, one South African, one Japanese, one Ghanaian and one Syrian. This is the way it worked out; it certainly ain't perfect.
My favourite songs of the year do not necessarily speak to my favourite albums of the year. Songs and LPs are entirely different creatures. But if you want full-length records that are the best, the best, these were my twelve in 2013: Haim's Days Are Gone, Leif Vollebekk's North Americana, Yo La Tengo's Fade, Frog Eyes' Carey's Cold Spring, Young Galaxy's Ultramarine, J Cole's Born Sinner, Sarah Neufeld's Hero Brother, Michael Feuerstack's Tambourine Death Bed, CHVRCHES' The Bones of What You Believe, Tim Hecker's Virgins, Basia Bulat's Tall Tall Shadow and, Beyoncé's BEYONCÉ.
Some songs that you heard in 2013 may have been omitted from this tally because I heard them before this year, and included them in my Best of 2012. For example works by CHVRCHES, Jessie Ware, MIA and Karneef.
One last thing: my debut novel is out in spring 2014. It's called Us Conductors and it tells a story about Lev Sergeyvich Termen, inventor of the theremin, and Clara Rockmore, the theremin's greatest player. It's a book full of love, electricity, music and espionage - plus a little kung-fu. If you like what I do here - and after you've paid for the music you've discovered - I hope you'll consider picking it up. Pre-order here.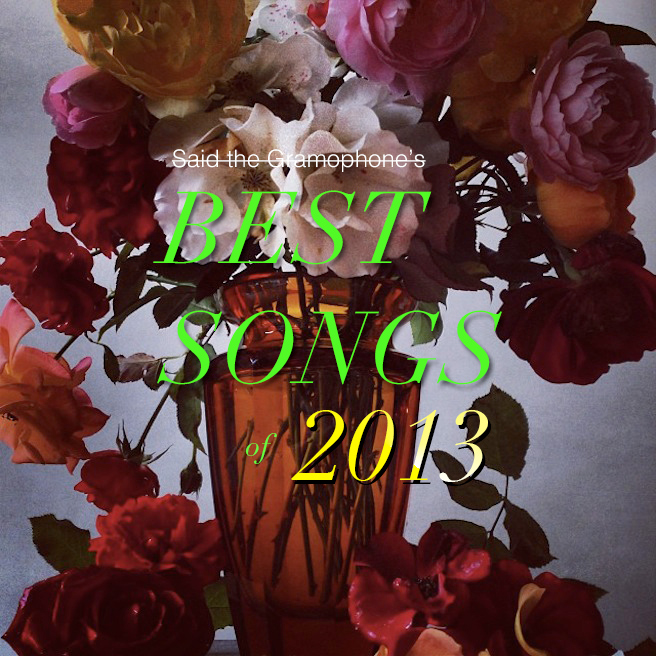 original photograph by Nick Knight
And that's 2013's century of songs, or the way they seem today. There are so many that didn't make it, that I wish I were pointing you to. And there will be so many I've missed (there are so many I'm already remembering). Maybe make your own suggestions in the comments.
At Said the Gramophone we spent the year writing about as many wonderful songs as we could, and old songs too, treasures kept in chests. If you're new to the site, please come again (or subscribe). We update almost every weekday, penning tales about the tunes that make us think YES
Thanks for reading, sorry for the broken links, please support these artists with your money. (Invest in things that are important.) Be kind to each other. Wishing you all the best this season - hope you find feasts and dazzles, bonfires and fizz, and lots & lots of love.
Posted by Sean at December 16, 2013 9:00 AM

Awesome surprises in here Sean, now my Monday is going to be bright. I love both Jai Paul and Fantasia but missed these tracks, so thanks.
A few that didn't make your list but made mine:
* Autre Ne Veut - Play By Play
* Blood Orange - It Is What It Is
* Dan Croll - Compliment Your Soul
And g'luck with the upcoming novel. I got to play a theremin for the first time a few months ago and it was something wonderful.
Thank you this is my favorite best of list every year!
great list! book is now pre-ordered...
I wait every yearlong to check this. Always full of surprises. I'm faithful to your taste in music. Happy holidays.
Basia Bulat led me here. Fave song on list - King Krule, but so many gems and so much new stuff. THX. :)
This is the best of list I wait for each year. Can't get any of the song links to play or download, though. Not sure if the problem is on my end or not...
This is the one end of year feature I'm always waiting for. You always have some of the best blurbs and selections from any other blog/zine in the world.
i cant get any to download either :(
Confused and sorry to hear it, Kayjayoh and Kat... Clearly, others aren't having problems. Can you let me know what kind of computer, browser and operating system you're using? Is it the individual song links or the big bundles? And do MP3s attached to other (non-Best-Of-2013) entries work for you?
I've also had troubles downloading the three bundles... I'm on a Macbook Air, OSX 10.7.4, couldn't download with Google Chrome or Firefox... but it worked with Safari.
So excited to hear all these tracks! Thanks :)
Thanks Lise!
If it's trouble with the bundles, it has nothing to do with me - those filesharing sites can be dodgy. Try one of the mirrors - that's what they're there for.
Sean, thank you so much for doing this! I officially look forward to your "Best of" lists more than I anticipate anything Christmas-related. So I guess you have become my Santa AND my Jesus! Congratulations on the completion of your book—I will be picking it up in 2014 for sure...
Another year, another great list from Said the Gramophone. Many thanks Sean!
That's my holiday filled... thanks for the music! Hope the book will make it to Europe as well, sounds great!
MacBook running OS 10.8.5, running Chrome. I've been trying to get the individual songs to play.
I click a link and it will open, but nothing will play. Nothing happens when you hit the play button. The time says 0:00. The volume control is a dead icon with a slash across it.
Trying to Save As, I can save the html file of the page itself, but no option to save an mp3
Firefox seems to do ok. I never use that browser anymore, but it looks like it will come in handy today.
My perspective on Song for Zula changed when I found out it was inspired by a captive gorilla. Still a great track though!

And I went ahead and made a Spotify playlist as well, with all the songs that are available. Enjoy (I know I will)!
There's a reason you have a novel coming out Sean, (and I can't wait to read it). It's because you put many of us scriveners to shame. Humbled by your lines and letters. Keep up the great work.

Sweet! Anyone out there have this in iTunes and can share the playlist XML? My iTunes relabelled and re-sorted the whole list….
:(
So grateful for your list - thanks! I've had the same problem as Michiel above when trying to listen to individual tracks. I'm on Android, using Chrome. No worries, really, I just read here and pull up the music on Spotify (thanks a ton to the reader who shared this as a playlist!), but thought I'd chime in since it sounds like others are having trouble, too.
Awesome list, will be pre-ordering your book--it sounds very interesting! Happy Holidays and keep warm up there in Montreal, Sean!
No. 98 Majical Cloudz - "Bugs Don't Buzz" doesn't play. Download is only 1KB.
Was away all December and finally found time to check out your list - definitely my favourite Best Of list for new music. Thanks again, congrats on the book and all the very best for 2014 to all of StG.
Long time reader of your blog. Great list! Keep up the good work and good luck in 2014
Ugh... what a disgrace to Ronnie Foster's "Mystic Brew"... J Cole and Kendrick Lamar need to be strung by their balls for an hour... starting off with, "Me and my bitch.."? Way to ruin a smooth beat, fellas. Leave the master untouched with the stain of your lyrics. You've turned a melody into a malady, to jokingly paraphrase Vyvyan Ayrs.
n.carolina
among all i love Kanye West - "Black Skinhead"