BEST SONGS OF 2014
by Sean
Please note: MP3s are only kept online for a short time, and if this entry is from more than a couple of weeks ago, the music probably won't be available to download any more.
These are my 100 favourite songs of 2014: songs I love more than ampersands and milkshakes & VIPs.
I follow just one arbitrary rule: that no artist may be listed twice.
I made similar lists in 2005, 2006, 2007, 2008, 2009, 2010, 2011, 2012 and 2013.
The best way to browse this list is to click the little arrow beside each song and then to listen as you read. The things you like you can then download by right- or ctrl-clicking with your mouse.
You can also download the complete 100 songs, in three parts:
Said the Gramophone is one of the oldest musicblogs.
We try to do just two things, well
:
finding good songs
, and
writing about them
. We don't mess about with tour-dates, videos or advertising. We post new songs and old songs, write clumsy dreams of what we hear. If this is your first time here, I hope you'll
bookmark us
or
subscribe via RSS
. You can also follow me
on Twitter
.
Of these 100 songs, approximately 63 are fronted by men, 37 by women. 43 acts are mostly American, 37 are Canadian, 10 are British, 2 are French, and there is one Australian, one Belgian, one Dane, one German, one Ghanaian, one Nigerian, one South African and one Swede. This is the way it worked out; it certainly ain't perfect.
My favourite songs of the year do not necessarily speak to my favourite albums of the year. Songs and LPs are entirely different creatures. My favourite albums of 2014 were Andy Stott's Faith In Strangers, D'Angelo's Black Messiah, Arlt & Thomas Bonvalet's Arlt & Thomas Bonvalet, Nap Eyes' Whine of the Mystics and Owen Pallett's In Conflict.
Some songs that you heard in 2014 may have been omitted from this tally because I heard them before this year, and included them in my Best of 2013.
Finally, if you enjoy the writing at Said the Gramophone I'd like to invite you to read Us Conductors, my first novel, published this year by Random House/Tin House. It's a book reimagining the story of Lev Sergeyvich Termen, inventor of the theremin, and Clara Rockmore, the theremin's greatest player. It's full of love, electricity, music and espionage - plus a little kung-fu - and it was awarded the 2014 Giller Prize. Order here, buy at your local independent bookshop, or pick it up at the library. Thank you!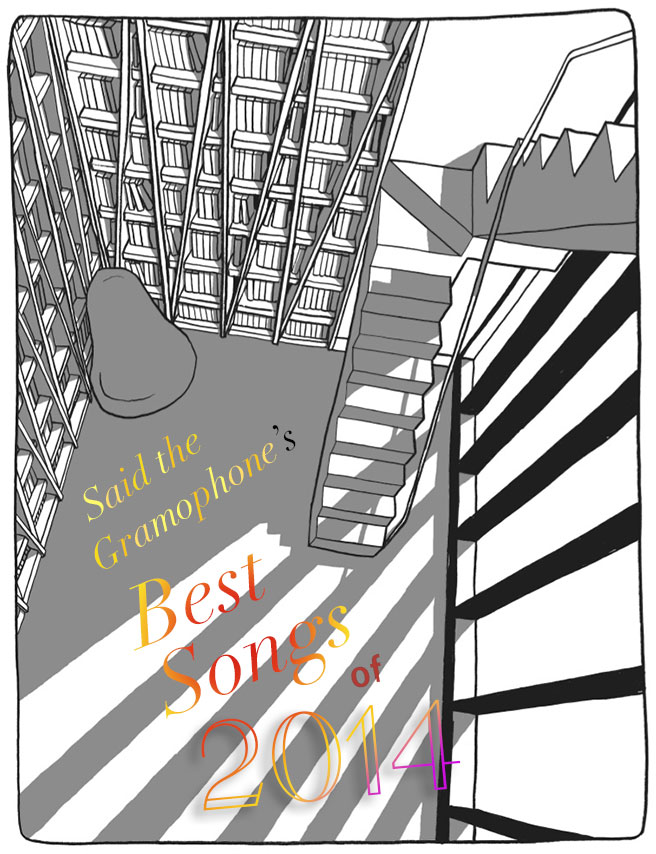 original image from Zviane's Les deuxièmes

And that's 2014's century of songs, or the way they seem today. There are so many that didn't make it, that I wish I were pointing you to. Thank you to everyone who sent some favourites in. There will be so many I've missed (there are so many I'm already remembering). Maybe make your own suggestions in the comments.
At Said the Gramophone we spent the year writing about as many wonderful songs as we could, and old songs too, treasures kept in chests. If you're new to the site, please come again (or subscribe). We update almost every weekday, penning tales about the tunes that make us think YES
Thanks for reading, sorry for the broken links, please support these artists with your money. (Invest in things that are important.) Be kind to each other. Be brave in the face of unjust systems. Wishing you all the best this season and winter - hope you find feasts and dazzles, bonfires and fizz, and lots & lots of love.
Posted by Sean at December 18, 2014 4:55 PM

The link to the 1-33 collection seems broken. The other 2 work fine.
I look forward to this list every year!!! Can't wait to take it all in.
Yes! Now the year may end.
The link to Buttercup by the Weaves is actually to Shithole - small problem, just a heads up
Oops - thanks, Mak. It's actually -supposed- to be "Shithole", not "Buttercup", anyway.
No Azealia Banks or Ana Tijoux? That's cold. Still excited to dive into this list though.
Ana + Shadia's "Somos Sur" =
love your blog so much and look forward to this list every year! Can't believe nothing from Kimbra's record didn't make the 100. Easily my most spun album of 2014. Still, great job, as always, gents!
most eagerly anticipated christmas present of the year: thank-you
Approve of almost all these, but White Hinterland at #7? Really? Maybe something on Kairos but definitely not this last one...
Love Chad VanGaalen, love Alvvays, love Paul Saulnier, love Hundred Waters, adore Astral Swans. A very solid list.
Love the list and your blog, but am not having luck downloading any of the links. Recommendations?
Pretty sure Sia is still Australian... I'd be sad to not see at least one Aussie on this list :)
No "Jealous" by Chromeo?!?! Boooooo
But the rest of the list is on point. Thanks!
Thanks dude, I always look forward to these lists :)
Oops, thanks Charlie - well noted, and corrected.
Oddly enough, this year I like the bottom half way better than the top half. Silver at 2 makes me very happy.
Thank you! This list is always the highlight of my December. Didn't realize you'd won the Giller prize, congrats! I'll look for your book the next time I'm in my favourite bookstore too.
Thanks for the music (this list and throughout the year)! Also - just started your book yesterday, and I'm loving that too.
Great selection, as usual, thanks for sharing.
If anyone's interested in the more electronic-based tracks, like Caribou, Aphex Twin or Andy Stott, then you may like my own selection of tracks (top 50 of 2014) for download: http://theletter.co.uk/blog/top-50-tracks-of-2014
Best writeups and best music curation/selection anywhere. As others have said, I look forward to this list every year.
Just finally got to listen to the last of these. This is the first year I've actually taken your advice and listened before downloading. You're right, that is totally the best way to do this! But it took the (1-33) download link not working to convince me. (It's probably working now; I haven't tried it since shortly after the list went up.) Thanks for another lovely overview of what I (mostly) missed!
Great list! Thank you for it yearly!
Hey, I drew that picture!...
I don't really mind if you use it, but next time, I would appreciate if you asked the permission.
Thanks! :)
This list is the one I go straight for every year. Thanks for your work putting together such a diverse list of quality songs.