END TIMES
by Sean
Please note: MP3s are only kept online for a short time, and if this entry is from more than a couple of weeks ago, the music probably won't be available to download any more.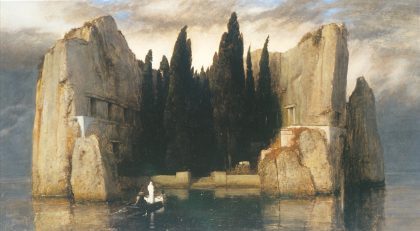 Pretend You're Happy - "The Other Side of the Earth". Pretend You're Happy usher in the Messianic age with rattling drums, whining violins, trumpet, cello, a whack of distorted guitar. It's the sort of Ever After where people carry bouquets like torches, burn their houses down, and everyone's perished pets come blinking back from the dead. Marvelous. [buy]
Dirty Beaches - "In Dreams". Fifteen thousand years from now & every human being is dead. Waves play on an empty sand. Lizards lie on rocks, blinking. Dragonflies weave round raspberry brambles. A cocker spaniel stands knee-deep in saltwater and feels like she's forgotten something important. [buy Horror - $7 - the best dream instrumentals since William Basinski's Disintegration Loops and Vincent Gallo's When]
(painting is Arnold Böcklin's Die Toteninsel)
Posted by Sean at November 10, 2008 8:00 AM

I can't wait for your guy's year end list. Check out Dent May and His Magnificent Ukelele.
The painting's translated title is The Isle of the Dead. There's a really great piece by Rachmaninoff by the same name, based on this very painting. I'll put it up on my site here: http://octember.net/
I think it would make a great little silent-movie-king-kong-ish film.
Thanks for the music and your words, seriously, thanks.
that was hitler's favorite painting. but it's one of my favorites too.
i love that painting too. last time i saw it i was standing in front of it, with a strange girl i am now in love with, and leaving the country to be with.
thanks for the reminder.
'Dream Instrumentals' - nice phrase. Nice track too.