Said the Guests: Eleanor Meredith
by Sean
Please note: MP3s are only kept online for a short time, and if this entry is from more than a couple of weeks ago, the music probably won't be available to download any more.
Eleanor Meredith's work all but waved to me. I don't quite remember: perhaps it was a solitary mer-man, winking on his rock. Perhaps a mess of line & colour, like that dizzy moment just before you fall in love. She's an artist and illustrator who lives in Scotland and makes whimsy feel like something you could be serious about. Nothing makes me happier, she writes, than drawing people without them realising.
I asked her to choose two or three favourite songs, and make pictures for them. She did. We've had many artists share their work with us, but I'm not sure if any have captured the spirit of a song quite as precisely, quite as agilely, as Eleanor Meredith. These are three different images for three different songs, and it's like each illustration was made by a different hand. And each - I swear to you, do listen, you'll see, - is perfectly suited. It's like the picture manifested the song, not the other way around.
Please leave Eleanor your comments, and visit her website to see, talk, buy more.


Bibio - "Marram"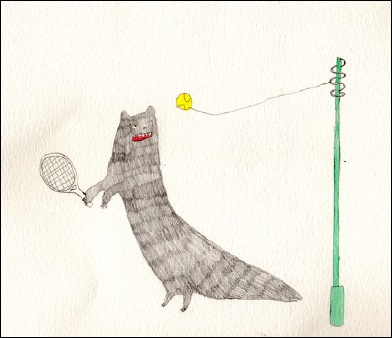 Eleanor Meredith- "Swingball Otter" (click for full size) (buy Bibio albums)
Matmos - "For the Trees"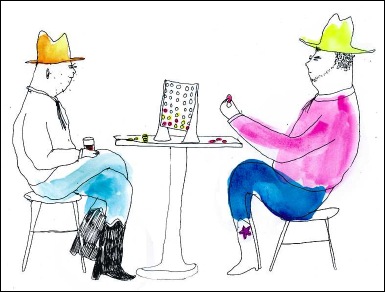 Eleanor Meredith - "For the Trees" (click for full size) (buy The Civil War)
Samoyed - "Making Snow"
Eleanor Meredith - "Making Snow" (click for full size) (more Samoyed)
[
Eleanor Meredith
lives and works in Edinburgh.
I'd really like to know anyone's comments on the pictures,
she writes.
If anyone's interested in getting hold of some work, do email me. I should have prints for sale from my website soon, and have shows in the pipeline for the summer, so watch that newspage...
]

(Previous guest-blogs: artist Keith Greiman, artist Matthew Feyld, The Weakerthans, Parenthetical Girls, artist Daria Tessler, Clem Snide, Marcello Carlin, Beirut, Jonathan Lethem, Will Butler (Arcade Fire), Al Kratina, Eugene Mirman, artist Dave Bailey, Agent Simple, artist Keith Andrew Shore, Owen Ashworth (Casiotone for the Painfully Alone), artist Kit Malo with Alden Penner (The Unicorns) 1 2, artist Rachell Sumpter, artist Katy Horan 1 2, David Barclay (The Diskettes), artist Drew Heffron, Carl Wilson, artist Tim Moore, Michael Nau (Page France), Devin Davis, Will Sheff (Okkervil River), Edward Droste (Grizzly Bear), Hello Saferide, Damon Krukowski (Damon & Naomi), Brian Michael Roff, Howard Bilerman (producer: Silver Mt. Zion, Arcade Fire, etc.). There are many more to come.)
Posted by Sean at February 28, 2007 8:54 AM

eleanor. your art is a chair in a toddler's classroom, state mandated and unusual and powerful in its smallness. it could be easy to trip over, and hope you do because the pain in your shin will help you value the absurdity and beauty in a chair that is knee-height.
your use of white space i like very much, particularly the squares of netting in 'otter', the empty checker holes in 'trees', and even more particularly the distance between action and thicker right border in 'snow'.
thank you for making me these very much.