2007's Best Music: Albums
by Sean
Please note: MP3s are only kept online for a short time, and if this entry is from more than a couple of weeks ago, the music probably won't be available to download any more.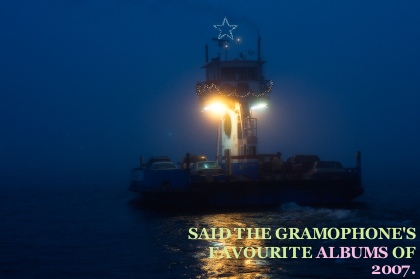 Yesterday, we shared some of our favourite songs of the year. Today the three of us talk in fewer words about our favourite albums.
I've heard almost all of them and they're all fuckin' rad. Go buy some music for Christmas, late Hannukah, New Year, end-of-world, or your wedding night.

DAN:
I know what you're thinking: "Dan, you have impeccable taste". Well, you're right, keep talking. "I notice you've started strong out of the gates with an album no one cared about, and no one can even get ahold of. How eccentric! And then a bunch of canadian bands you've been talking about for three years, mixed with a Brooklyn band you've been harping on for three years, and a new Brooklyn band. And mixed in there, taking up one of the seven slots for the year, the 4th no less, is an album of stand-up comedy. Seriously, you know what you're talking about." Okay, stop talking.
I'll explain the ones I think need explaining. Group Inerane's Guitars From Agadez is the most affecting group of songs I've heard all year. That album is a document of perfect expression, it's like listening to the invention of the electric guitar. After I heard it I went looking for something like it, and though there are many imitators, nothing comes close to this. Paul F. Tompkins is on there for two reasons; he's representing the comedy album, and he made the best one (simple, straightforward, yet formal, classic, like a three-piece suit).

JORDAN:
My past 365 days have been profoundly enriched by the following pieces of music (in no particular order):
Nat Baldwin's Most Valuable Player (Info)
Feist's The Reminder (Sean)
The Sleeping States' There the Open Spaces (me)
Sandro Perri's Tiny Mirrors (Sean)
Frog Eyes' Tears of the Valedictorian (Dan)
Fleetwood Mac's Rumours, Tusk (Sean, me, Sean, me)
The Band's The Band (me)
Robert Pete Williams' Graveyard Blues (me)
Revenant's American Primitive, Volumes 1 & 2
Van Morrison's "Tupelo Honey" (Buy)
Percy Sledge's "Come Softly To Me" (me)
Medicine Head's "His Guiding Hand" (me)
This year was also musically notable for me because: After three years of work, my band, The Cay, finally finished Don't Go Out Tonight. Here are two songs from that album.

SEAN:
Runners up:
Ola Podrida, Orilla Opry, Sleeping States, Julie Doiron, Miracle Fortress, Nina Nastasia & Jim White, Ravens & Chimes, Do Make Say Think, The Owls, Colourbook, Burial and Phosphorescent
In more ways than one, this was for me a year about coming back to life. I want to thank the artists who made living seem easy - Spoon, Basia, Vampire Weekend, Feist, Miracle Fortress. I want to thank those who found new ways to sing the ways it is hard - The Luyas, Of Montreal, Low, Shearwater, Sandro Perri. And I want to thank as well the two or three who I left behind with the ghosts; Burial and Phosphorescent, artists I've not been quite able to look in the incandescent eye.
[photo by Louis Vest]
Posted by Sean at December 18, 2007 3:46 PM