ZYDECO BREAKFAST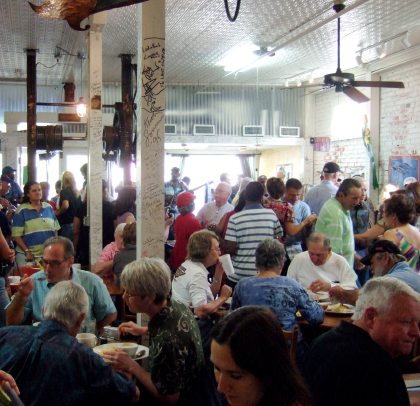 [This post is the second in a series about my recent visit to southwestern Louisiana and New Orleans.]
Jeffery Broussard and the Creole Cowboys - "Motordude Special".
It didn't matter that we were uh, going out on Friday night. They told us that we should be ready at 6:30am on Saturday. I am usually of the belief that human beings should sleep until it is later than 6:30am, particularly when they have uh, gone out the night before. But in this case they were persuasive. Zydeco Breakfast is not to be missed, they said.
Perhaps you have not heard of Zydeco Breakfast. Certainly I had not heard of it. It sounds like the name of a clumsy Detroit punk band. In fact, Zydeco Breakfast is, well, a breakfast with zydeco music. It begins at 7:30 am.
I wake to Lafayette's morning sun and I am instantly, unforgivably warm. The blue sky seems to buzz. I meet my hosts in the lobby and they all have this funny, thinly cheery expression. It is difficult to smile at 6:40am. It is difficult to speak with the rising inflection that PR work requires. Someone makes a joke and then no one laughs, it is too early for laughing. We nod.
I ride bleary-eyed in the minivan. Louisiana's drooping trees are the bright green of a warm salad.
Our destination is the Café des Amis, in the village of Breaux Bridge. Breaux Bridge is quiet, uncrowded, and most of it is sensibly asleep. And yet... and yet... outside the Café des Amis I see the first sign that wonders may truly lie ahead. There is a line-up. Every citizen of Breaux Bridge who is awake on this Saturday morning is lining up outside for the Zydeco Breakfast, the whatever-it-is inside the Café des Amis, a parade that stretches down the block and is more local than tourist. In the summertime, we're told, people bring coolers full of beer. (No need to wait to get inside for the breakfast to begin.)
The Café des Amis is owned by Dickie Breaux. It is a big long room with whitewashed brick, high ceilings, cool air, and the best shade of sun. There is a long bar, many tables and folk art on the walls. The first thing you do when you arrive for Zydeco Breakfast is you sit down and you order a drink. (This will be the first of several drinks. It is 7:45am.) I have a bloody mary, and it is very good, there is even a green bean in it. Next I order food: crawfish étouffée with poached eggs, and cheese grits, and a café au lait so sweet that it tastes like melted-down Werther's Originals. It is the Zydeco Breakfast and I am going to do it right.
Already I am pretty happy about this whole thing. Sure, it's 7:57am but this place is nice and there is chatter in the air and I have just discovered that crawfish étouffée is delicious.
And then the band begins to play.
Many different bands play at Café des Amis but on this given morning it is Jeffery Broussard and the Creole Cowboys. I cannot see them at the front of the room but I know they are playing because there is MUSIC, all-caps, and it is present in a thousand different ways. Across the restaurant, every single foot begins to tap. Every single light in every single bulb, even the light streaming through the windows, gets a new & redoubled spark. The room has glints and movement in every corner - so many more taps and so many more sparkles that it's downright distracting, downright thrilling, and you feel the thrill along the insides of your arms, the roof of your mouth, the soles of your feet. You see it in the bright shining flick in every single pair of eyes.
All at once, the eaters kick back their chairs and grab their partners and the big dance-floor is no longer an empty space for wheeling out crawfish étouffée, no now it is a place where couples are twirling and grinning and dipping, and the accordion's full of hollondaise sauce, and the singer's got a mouthful of early morning boozing. The washboard is the sound of my wheezing morning heart revving ticktock up to speed.
There are young couples dancing, remembering honeymoons. There's an elderly couple dancing, taking the rhythm at half-speed. There a wiry dude with a handkerchief round his wrist and one more in his back pocket, to pat his sweaty face, because he dances double-fast, like a maniac, and maybe he's the greatest dancer of all time, maybe he is, dashing and slipping and picking a new pretty partner for every zydeco hit. Dickie Breaux watches from his chair and I understand how this idea could travel, this 8:33am marvel, how when Dickie and his wife divorced she opened her very own Zydeco Breakfast, in Donaldsonville, because of course she had to. Of course she couldn't go one week without this party in her living-room.
And I dance too, at least for a while, the dancing junket journalist. The compulsion to dance is not in the bass drum, high-hat, bassline or washboard - it's not even from the peer pressure. The reason to dance is the ten thousand glints; the rattle of (gold) eggs and (silver) booze in our bellies; the rollicking zing of the air around the room.
[more on Jeffery Broussard / buy]
Posted by Sean at
3:17 PM
|
Comments (7)