Space Riders: Division Earth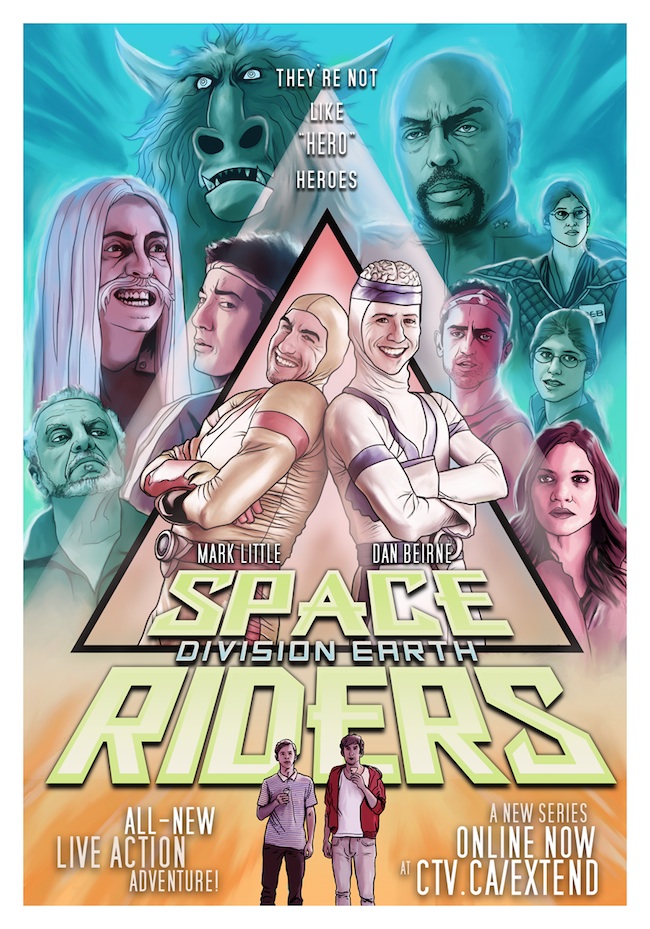 Jay McCarroll & Mark Little - "Space Riders"
Sean wrote a novel. It's incredible and I love it and you should all read it. It makes sense to promote a novel on here, because this is a site for fiction and truth and writing in words. What I do in the rest of my life doesn't translate as well to Said the Gramophone, which makes it weird when I promote it on here. Like, pass the shoehorn, I need to fit this post in. What I do in the rest of my life isn't written fiction, it doesn't have paragraphs and if it has pages you never see them. I make, apparently, and for now, something like television. But it takes up a huge portion of my mental and physical energy, so it only makes sense (for me, though perhaps not for you) that I would talk about it on here.
Yesterday, on CTV.ca in Canada and Hulu in the US, I launched my newest show, Space Riders: Division Earth. It's a Power Rangers-esque comedy that I made with Mark Little and features, among talents like Gerry Mendocino and Mark McKinney, the genius of Kayla Lorette. It's directed by one of my closest friends Jordan Canning, who was also my co-editor. I'm very proud of it, it's made with lots of love, and I hope you like it too. And if you do like it, don't be shy about sharing it around.
Twitter: @spaceriderstv
Facebook: SpaceRiders
and Bandcamp
Trailer below but FULL 13-episode SHOW at spaceriders.tv
Posted by Dan at
11:02 PM
|
Comments (8)