2015 GUIDE TO POP MONTREAL
Please note: MP3s are only kept online for a short time, and if this entry is from more than a couple of weeks ago, the music probably won't be available to download any more.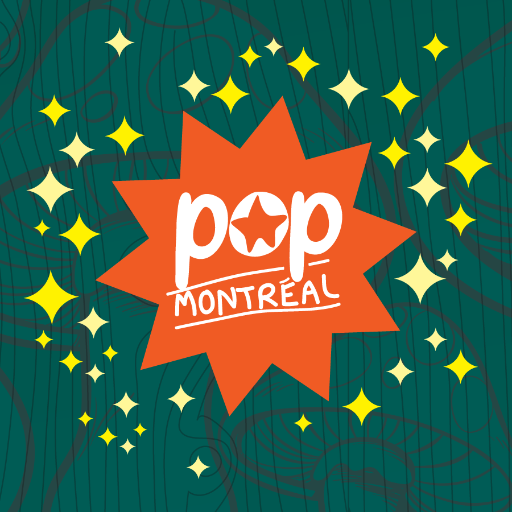 Pop Montreal, the city's most terrific music festival, returns this week. It's a five-day bash that transforms the town into a showcase for artists from across Quebec, North America and beyond. I'm ill-suited to write a guide this year - I've been running around like a maniac in recent months, becoming a little out-of-touch with the local scene, and I've not had much time with the programme. But still I wanted to give local readers some of my personal picks for these splendid coming nights and days. Please note that these selections are my own, and do not reflect on the much superior tastes of Jeff, Mitz and Emma.
As I've said before: After years of doing Pop, I feel the most important thing is to seek out extra-ordinary moments. That's the key part - the extra ordinary. Many of Pop's shows are like any other - a major or mid-level indie touring act, visiting town for an evening show. I say: during Pop, don't waste your time on that shit. This year, for instance, forget about Albert Hammond Jr or Mikal Cronin. Skip Motorhead, unless you're a massive Motorhead fan. Instead, seek out the stranger things. The one-offs, rare bookings, alternative venues, or perfect mixed bills. The showcases that pack a gang of friends into a single room, capturing an autumn moment that'll never be repeated. And don't run around so much that you don't have any fun.
This Guide
As always, this Guide is my guide to Pop. It's not a universal guide. It is personal, subjective, honest. I recommend the things I love, the things I am curious about. And I leave out the things - even if they're highly touted - for which I'd have to fake excitement. Take everything with seas of salt.
I made similar guides in 2008 and 2009, 2010, 2011, 2012, 2014 and in 2008 also wrote up my experiences for McSweeney's.
If you're a visitor to Montreal, please take advantage of the city's Bixi bike rental system. Please also look at the sidebar on the right, where Said the Gramophone has some local recommendations (they're mostly restaurants).
Pop HQ
If I refer to Pop HQ, I am referring to their registration/box-office/symposium/gallery space at L'ancienne École des beaux-arts de Montréal, located at 3450 St-Urbain, corner of Sherbrooke.
Tickets and Passes
Free stuff. Lots of Pop is completely free. There are afternoon concerts, art openings, barbecues, installations, record and craft fairs, as well as workshops, lectures and conversations between artists. Click here for the full list. The free Symposium - the name for Pop's "conference" component - is very often my favourite part of the whole festival: all these remarkable events - hilarious and interesting conversations, demos, jams, with some of the fest's biggest artists. Symposium programming is tragically underattended: don't miss it.
Buy tickets. Most Pop concerts are like any other concerts, year-round: you can buy tickets at the door, online, or at a record shop like Phonopolis. Almost everything's cheaper if you buy it in advance. Setting aside the free shows, most gigs cost between $10 and $30, which typically includes a bill of two to four bands. Buying tickets is really the simplest way to do Pop - figure out the concerts you want to see, buy the ticket, show up. For $15 you can also get a one-day Pop Hopper upgrade to any ticket. (See below.)
Pop Hopper upgrades. When you buy a Pop Montreal concert ticket, $15 more will net you a one-day Pop Hopper pass for the same date. These passes are for people who wish to skim and graze between shows, visiting several venues in a single night. Pop Hopper passes don't guarantee access - most concerts have a certain allotment of Pop Hoppers they will allow in, and some high-end gigs won't allow any Pop Hoppers at all. Please note: Pop Hopper upgrades require planning. You can only buy them when buying tickets online, or by dropping by Pop HQ, 12pm-8pm.
Day Pass. This year is Pop also offers a $45 Day Pass. Each of these things lets you into all of that day's shows, including priority "skip-the-line" access. It's also good for a couple of free drinks at Pop HQ.
Super Pass. For $175, do more or less whatever the hell you want. (This is a bargain.)
Recommendations over several days
Besides the concerts and Symposium events, Pop has a couple more important segments. Crucially, there's Film Pop, with a series of specially curated movies, and Art Pop, with visual arts exhibitions which are mostly on all week. This year, Art Pop's curators are leading exhibition tours from Pop HQ at 17h30 every day.
Do your holiday shopping early: Pop's massive, excellent art&craft fair, Puces Pop, takes place Thursday-Friday (17h-21h), and Saturday-Sunday (11h-18h) at 160 St-Viateur Est. There's also a record fair at the Église St-Michel-Archange, a few blocks away (Sat-Sun, 11h-18h). Finally, if you're a parent, do look into the often-overlooked Kids Pop.
Daily Event Recommendations
Most days, I break things down as follows:
| | |
| --- | --- |
| Anchor your evening: | The ticketed shows that deserve your doubloons, usually including several acts. |
| Roam: | The night's other best sets, for those with slimmer wallets, super passes, Pop Hoppers, or a sense of adventure. |
| Roll the dice: | The day's foremost curiosities and gambles - could-be treasures and maybe-flops. |
And then a list of the day's highlights, as far as I can tell. It's important to note I am not listing entire bills - just my highlights. So check the program for full set-times.
I highly recommend everything on these lists, but everything listed in bold is CAN'T MISS.
This list has been made using the Pop's updated online schedule of September 14. All dates/times are as best as I know.
Top Five
Micachu & the Shapes [Wednesday, Le Ritz PDB]
Partner [Thursday, Cagibi]
Stars of the Lid [Saturday and Sunday, Ukrainian Federation]
Ponderosa Stomp Revue ft Barbara Lynn, Lil Buck Sinegal [Saturday, PHI Centre]
Pathway to Paris ft Thurston Moore, AroarA, Barr Brothers, etc [Sunday, Theatre Rialto]
Wednesday, September 16
Anchor your evening:
Three very solid options:
Roam:
Weaves (previously) are one of my favourite new indie acts in Canada, while Micachu & the Shapes' brilliant noise-pop is some of the most exciting music being made in the world today. I'll be at Le Ritz with them.

Roll the dice:

Fanfaraï are a French-Moroccan fanfare band mixing gnawa, gypsy and other musical traditions. They are playing outdoors at 5pm or indoors at 1:30am. You decide.
15h - Polaris Prize discussion panel [Pop HQ - free]
16h - Nancy Pants [Pop HQ - free]
17h - Fanfaraï [Pop HQ - free]
20h - Molly Sweeney [Ukrainian Federation - $30]
21h - Tapa Diarra et Diely Mori Tounkara [Ukrainian Federation - $30]
22h - Suuns and Jerusalem In My Heart [Theatre Rialto - $18]
22h - Weaves [Sala Rossa - $20]
22h - Vieux Farka-Touré and Julia Easterlin [Ukrainian Federation - $30]
22h30 - The Sonics [Theatre Fairmount - $33]
23h - Micachu & the Shapes [Le Ritz PDB - $20]
01h30 - Fanfaraï [Piccolo Rialto - $15]

Thursday, September 17
Anchor your evening:
You could easily spend your night at Eglise St-Jean Baptiste, where Montreal favourites Barr Brothers and Katie Moore are sure to fill the room with loveliness. Or at La Vitrola, where the Fixture Records crew will fill the room with unique, gem-coloured art rock. Or, for a amazing, mere $10, with great singer-songwriters and the like at Rialto Hall, where it's StG pals like Michael Feuerstack, Nick Ferrio and The Burning Hell, plus By Divine Right.

Roam:

Please don't miss Partner, from Sackville, New Brunswick, who are for my money the best new band in Canada. Other highlights: a late-night delirium by Braids, what will be an amazing hometown record launch by the heroic & inspiring Ought, and a rare dive-bar appearance by Stanley Brinks, arguably the best (and former) part of Herman Düne. Plus a talk on songwriting between Stars' Torquil Campbell and "Sugar, Sugar" songwriter Andy Kim.

Roll the dice:

Said the Gramophone's own Mitz Takahashi leads the band MAVO. My cousin plays in Goodbye Honolulu. I love them both. And Last Lizard is described as a film-score/free-jazz project by Dirty Beaches' Alex Zhang.
12h15 - Canadian music industry panel [Pop HQ - free]
14h30 - Andy Kim and Torquil Campbell talk songwriting [Pop HQ - free]
20h - The Reflektor Tapes screening & afterparty [Theatre Rialto - $12.50]
20h - Katie Moore [Eglise St-Jean Baptiste - $35]
20h - Goodbye Honolulu [Divan Orange - $10]
21h - Stanley Brinks [Barfly - $10]
22h - Partner [Cagibi - $10]
21h - Barr Brothers [Eglise St-Jean Baptiste - $35]
21h - MAVO [La Vitrola - $12]
21h45 - Freelove Fenner [La Vitrola - $12]
22h - Ought [Ukrainian Federation - $15]
22h30 - Chevalier Avant Garde [La Vitrola - $12]
23h15 - Last Lizard [La Vitrola - $12]
23h30 - B.A. Johnston [L'Assomoir - $10]
01h00 - Holy Data [O Patro Vys - $10]
01h00 - Empress Of [Piccolo Rialto]
02h00 - Braids [Piccolo Rialto - $15]

Friday, September 18
Anchor your evening:
I'm most excited by the concert at Casa Del Popolo, showcasing weird pop music by several amazing acts, none of whom are famous (yet), all of whom are visiting from far away. Jib Kidder first caught my interest seven years ago, and he's still got it, while Ruth Garbus has done some amazing stuff under the name Happy Birthday. Her sister is Tune-Yards' Merrill Garbus.


Roam:

There's something amazing in Montreal tonight under the umbrella of almost every genre, from Tim Hecker's electronic noise to Jean Grae and Cannibal Ox's different flavours of rap to italo-disco emperor Giorgio Moroder to jubilant noise-niks Viet Cong. But don't leave out the eminent, heavy, psychedelic rock of Besnard Lakes, playing here with an incredible 17-piece band.


Roll the dice:

I'm embarrassingly unfamiliar with the art and work of Arto Lindsay. Tonight might be the night to learn.
13h30 - Conversation with Jean Grae [Pop HQ - free]
15h00 - Going Down The Road Feeling Bad panel ft Khaela Maricich & more [Pop HQ - free]
16h00 - Vesuvio Solo [Pop HQ - free]
18h00 - Artist Talk: Olaf Breuning [Pop HQ - free]
20h00 - K8 Hardy: Outfitumentary screening [JA De Seve Cinema - $10]
20h30 - Jib Kidder [Casa Del Popolo - $15]
21h00 - Tim Hecker [PHI Centre - $20]
21h30 - Ruth Garbus [Casa Del Popolo - $15]
21h30 - Giorgio Moroder [Eglise St-Jean Baptiste - $45]
22h30 - OHARA [L'Assomoir - $15]
22h30 - Jean Grae [Club Soda - $25]
23h00 - Arto Lindsay [Sala Rossa - $18]
23h00 - Besnard Lakes with 17-piece band [Rialto Hall - $20]
23h30 - Cannibal Ox [Club Soda - $25]
23h30 - Viet Cong [Theatre Fairmount - $16]
23h59 - Showgirls screening [Cinema L'Amour - $10]
01h00 - Saxsyndrum [La Vitrola - $10]
01h00 - Hua Li [Maison SOciale - free]

Saturday, September 19

Anchor your day:
If you are interested in and/or committed to independent art & music, I would invite you to join me at the Saturday afternoon forum on the Politics of Independent Music, run by Constellation Records. Constellation (home to Godspeed You! Black Emperor and many, many more) is one of the most righteous artistic entities I have ever encountered. I'm looking forward to these conversations.

That night, I recommend two very different bills: at the Ukrainian Federation, Jessica Moss (Silver Mt Zion) will open the first night of a two-night stand by Stars Of The Lid, whose ambient music is some of the best ever made. I was at Stars Of The Lid's last Montreal visit, for a Pop gig around 2008, and it was an all-time experience. I felt the same way about the last time I went to a show run by New Orleans' Ponderosa Stomp, a festival showcasing great, forgotten rock'n'roll, soul and R&B artists from Louisiana and around. Tonight in Montreal they are showing a film about the project, plus live music by Stomp sensations Barbara Lynn and Lil Buck Sinegal.

Roam:
Stars of the Lid's Adam Bryanbaum Wiltzie will be talking music with Tim Hecker that afternoon, and my friends in Nancy Pants ought to rock out your midnight at Divan Orange.
12h00 - Constellation Records' six-hour Politics of Independent Music forum [Pop HQ - free]
12h30 - Adam Bryanbaum Wiltzie in conversation with Tim Hecker [Pop HQ - free]
16h00 - Nick Diamonds [Pop HQ - free]
16h00 - A Poem Is A Naked Person screening [JA De Seve Cinema - $10]
19h00 - Lee Ranaldo [Ubisoft Roof - $35]
20h30 - Moon [Brasserie Beaubien - $10]
20h30 - Li'l Andy [L'Escogriffe - $10]
20h45 - Ponderosa Stomp Revue screening and concert by Barbara Lynn, Lil Buck Sinegal and the Key-Lites [PHI Centre - $30]
21h00 - Jessica Moss [Ukrainian Federation - $25]
22h00 - Stars of the Lid [Ukrainian Federation - $25]
22h00 - Babes in Toyland [Théatre Rialto - $27]
00h30 - Nancy Pants [Divan Orange - $10]

Sunday, September 20
Anchor your day:
This relatively quiet Sunday is stacked in favour of the Pathway to Paris concert, which unites some of the city's most creative instrumentalists - as well as uh, Thurston Moore - in the hopes of bringing attention to climate change issues.


Roam:

Tonight is your second change to see the incredible Stars of the Lid, and there's a fun late-night show at Piccolo Rialto where awesome musicians are reimagining songs by the Smiths and the Talking Heads.


Roll the dice:

I've been enormously curious about Trent Harris's Beaver Trilogy since hearing about it on This American Life; Part IV is a documentary examining this bizarre American film artifact.
18h00 - The Beaver Trilogy Pt IV screening [JA De Seve Cinema - $10]
20h00 - Pathway to Paris with Thurston Moore, AroarA, Jesse Paris Smith, members of Barr Brothers, Saltland, Brahja Waldman Quartet, and more. [Theatre Rialto - $25]
21h00 - Loosestrife [Brasserie Beaubien - $10]
22h00 - Stars of the Lid [Ukrainian Federation - $25]
22h40 - Bully [Divan Orange - $15]
00h30 - Play Guitar cover Talking Heads [Piccolo Rialto - free]
00h30 - Heathers [Brasserie Beaubien - $10]
01h30 - The Smiffs (Smiths cover band) [Piccolo Rialto - free]

Fin
There you have it. Follow me on Twitter for updates if I get them. And I'm sure I've missed tons of great things - leave your own recommendations in the comments.
Posted by Sean at September 15, 2015 12:42 AM