A Moment Crucible
Please note: MP3s are only kept online for a short time, and if this entry is from more than a couple of weeks ago, the music probably won't be available to download any more.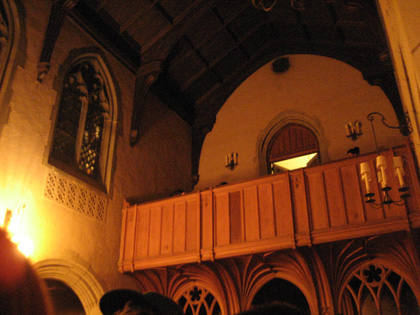 As I write this, the last few afterparties for Pop Montreal are swaying in the breezy rain, and all the tired happy faces are headed to bed. I was running errands tonight getting ready for the last Bleating Heart Show, and it struck me how hard everyone works at this festival, and how there's a perfect understanding of help and mutual support. It's quite wonderful.
I missed the first two Bleating Heart Shows, as I was in a play those nights, so I'm sure Sean will be able to give the full deal on those (all I know is they went marvelously), but I made it to the Sunday show tonight, and it was really incredible. Moments of pink and glowing beauty (see the Casey Dienel clip), red and sinking beauty (see Horse Feathers), and flashing, gnashing beauty (CLUES played a wild set).
The show took place in the Birks building, part of McGill campus, in a little chapel on the second floor. The old stone and hardwood pews and perfect sound made the silence as important as any of the bands. There was so much quiet that it lit up the artists better than any light.
this clip is unwatchably dark, I know. But the visuals are just a formality, because the mood in the chapel during this song wasn't about what anyone could see, it was about the sound of 90 people singing along nervously but with grins to Casey's last song, being left on their own to sing, and laughing when they get it wrong. [Site]
Elfin Saddle were really remarkable. They have a gentleness to them, and they build their songs like little sandcastles. Taking great care to make details right, carefully switching instruments to add little dings and crashes when needed, and every time kicking them into heaps when they're done. [Site]
Horse Feathers - "Mother's Sick"
Horse Feathers sounded like they had built this church for their songs. Every whisper, every movement, was clear as day, and felt intentional, full. I can't imagine a better way to have seen this band. [Site]
Clues were insane. They laid songs down like traps all around us, and unwittingly we set them off. I'm not quite sure what happened; capes were worn, drums were thrown, people were pinned under a giant xylophone at one point, but we all went through it together. Including the band. I think they were watching themselves play, wondering at their own fervency, confused at their own personae, elated by their own undeniable talent.
It was a great show. One I, we, will never forget.
Posted by Dan at October 8, 2007 2:48 AM