BIG ASK: OUR 2011 FUNDING DRIVE
by Sean
Please note: MP3s are only kept online for a short time, and if this entry is from more than a couple of weeks ago, the music probably won't be available to download any more.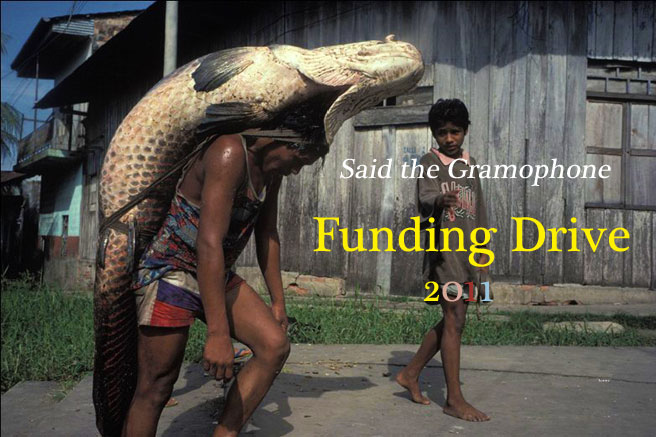 This is Said the Gramophone's 2011 Funding Drive, from June 13 to July 12.
It's where we invite the people who have enjoyed the site over the past year to help keep this loose gang ganging, swinging at windmills.
Once a year, Said the Gramophone asks its readers to please give. (And we offer rewards!)
UPDATE 13/07/2011:
Our Funding Drive is now closed
It's like this:
Said the Gramophone does not take advertising.
This is not an accident or a mistake. We just feel the site is better without it. Most music-blogs have ads; so do magazines, festivals, even NPR podcasts. But books don't have ads. Vinyl records don't have ads. Conversations with friends don't include commercials. And although there are costs to running an mp3blog like this - server costs, website costs, most of all the investment of time - we have made do, for several years, by becoming shills
just once a year
. By requesting your support. By asking, as humbly as we can, for your dollars and pounds, baht and bitcoins. Here we are, heads bowed, with our hat, organ-grinder and chimp.
We accept donations for just one month a year. (It's right now.)
Most of Said the Gramophone is written by two people: Dan is an actor, Sean is a freelance writer. This doesn't mean you should feel bad for us: we don't feel bad for us, we're doing things we love. Besides, you're probably broke too. But what we mean is this: we could use your help.
Since 2003, with Jordan Himelfarb, we have written 1,865 entries about almost 5,000 songs. This past year, another four or five hundred tunes, harpooned with scraps of prose. Some of the songs were new, some were very old. Each week, instead of trying to find another ten great bands, we do something much humbler: ten magnificent songs. Little marvels, three-, four- or five-minutes at a time.
We're proud of what we do at Said the Gramophone, but we know we will never be the biggest mp3blog in the world. We do not post videos, tour-dates, album art. We do not chase pageviews, post press releases, share the indie stars' new soundcloud leaks - unless they are killer songs, deserving to be here. If we post about something, it's because it's wonderful.
We try to do that one thing - writing with spirit about the songs we love, - and to do it well. As we've said before, our audience is you. That's it. There's no one else. You small, strange gang.
If you enjoy our work, please support us.
The Funding Drive is also your chance to get t-shirts, mixtape subscriptions, StG's first-ever chapbook, or even an exceptionally limited lathe-cut 7". Details of these pledge gifts are below.
These are some of the things we did in the past year: introduced or (more likely) reintroduced you to artists such as Ancient Kids, Austra, Avec pas d'casque, Bertrand Belin, Blue Hawaii, BOAT, Braids, the Burning Hell, Charlotte Dada, Colin Stetson, Connan Mockasin, Cousin Dud, Curren$y, Dale Earnhardt Jr. Jr., Dead Heart Bloom, Digital Leather, Digits, Efrim Manuel Menuck, Eternal Summers, Glass Ghost, Glasser, the Good Ones, Grimes, Group Doueh, Hello Shark, Hidden Words, Jai Paul, James Blake, James Irwin, James Leroy, Jamie Woon, Janelle Monae, Joe Goddard, Josephine Foster & The Victor Herrero Band, Katy B, Khaira Arby, Kris Ellestad, Kurt Vile, Land of Talk, Les Cox (Sportifs), Little Scream, Long Long Long, Lloyd Miller & The Heliocentrics, Makeup Monsters, Mavo, Mean Wind, Mozart's Sister, Norwegian Arms, Ô Paon, Otouto, Pacific!, Parasites of the Western World, Parlovr, Pat Jordache, Peter Nalitch, PS I Love You, Ryan Driver, S.E. Rogie, Sea Oleena, Shotgun Jimmie, Sleeping Bag, Sunglasses, Ted Hawkins, Tennis, This Is The Kit, Timothy Bloom, Tonetta, Troupe Majidi, Ty Segall, the Vaccines, Valley Maker, Venuses, Vijay Iyer, Vokal Ansembl Gordela, Warpaint, Wombs, Young Man and Zola Jesus; prepared guides to Pop Montreal and Suoni Per Il Popolo; wrote of swallow-jockeys, godfathers, 1996,heat and magnets, drum lessons, Arcade Fire's comeback, the city of Ület, Disney Park Memories, karaoke with co-workers, a Halloween after-party, the drowning city, Mickey's amulet, making love to the Earth Mother Achilles, Tiny's magic courtship, Catfish, The Weather War, #BRAGGADONTCHAKNOW, demos, grandpa's .zip file, flowers from the oven, James Blake's dad, Kirk Baxter, co-editor The Social Network, The Story of Emma, if the Beatles never broke up, "Ça Plane Pour Moi", Sappyfest and the Dawson City Music Festival, covers of Big Star's "Thirteen", unreleased Disney tunes, singing for a child, shaving your beard, Derek the "Judo master", pot from Muscles, the lovers' lying song, a fly in butter, Tune-Yards' succumbersome mid, beating blizzards and blizzards beat up; plus guestposts by Chandler Levack, Emma Healey and Little Scream. We also wrote about our 100 favourite songs of 2010.
We have some presents for donors.
Give > $20
A one-year subscription to our new mixtape of the month club.

each month, a seamless full-length mix by Dan and Sean;
delivered by email, with download link.

Get entered into a draw for t-shirts by Nice Snacks-Cold Drinks.
Give > $50
The first ever Said the Gramophone book.

a hand-numbered, limited edition chapbook;
four new stories, by Sean and Dan, with original illustrations by Meags Fitzgerald and others;
plus a handful of Said the Gramophone classics;
small and perfect-bound, with colour cover and b&w interior.
Give > $100
Said the Gramophone's first hand-cut 7" vinyl record.

extremely limited custom-made lathe-cut single;
we mean it: rarer than a Stradivarius;
with music by ??? and ??? (too secret to mention);
hand-numbered, in handmade packaging.
We don't have photographs of our book and 7", because we haven't made them yet. But if you have any doubts about the substance of our thank-yous, we thought we would share some details from last year's funding drive:
To thank Said the Gramophone's 2010 donors, we made two exclusive mixtapes for download. Here's one of them: Songs for Dancing [90mb].
We hid their initials around Montreal: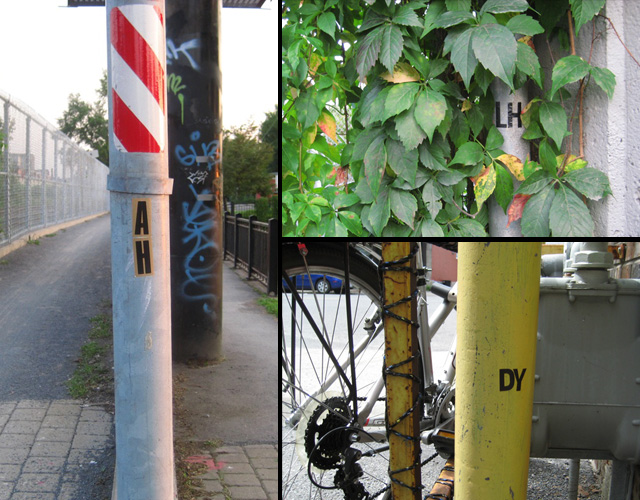 We documented games of giant chess: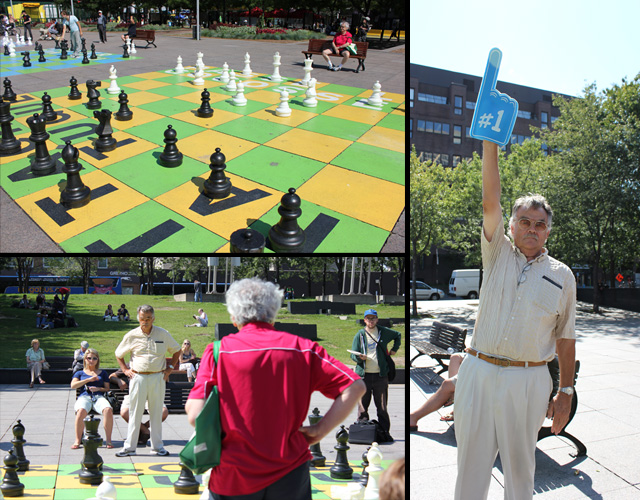 We even made a short film, about betting on long odds. This is a tiny clip:

That was last year. This year's gifts are even better.
Finally...
We are terribly, marvelously indebted to you. Every year we say it, and every year it feels even more true: your beauty and smarts, your kindness and curiosity, your wit and wolf-whistles, your comments and clicks - these are the things that make this thing a thing. These are the treasures which sustain this sea bed. You give us your time, and we feel privileged to give you ours. Thank you for leaving comments, writing emails, offering help and hospitality and faraway friendship. Thanks for the spooky JPGs and the animated GIFs and the MP3 attachments, the pokes and retweets. You play our favourite songs to your lovers, send us your lovers' favourite songs. You put up with this stumbling, fumbling project - stories about midnight gardens and weather wars, eros and hate. We understand that not everyone can afford to donate to a silly website. Regardless of dollars or cents, rubles or yen, thank-you thank-you thank-you all yet again for continuing to make this one of the most rewarding things in our lives, truly.

Said the Gramophone's 2011 funding drive runs until July 12, when donations will close for the year.
Posted by Sean at June 13, 2011 10:06 AM