BLUE STOP-LIGHTS
by Sean
Please note: MP3s are only kept online for a short time, and if this entry is from more than a couple of weeks ago, the music probably won't be available to download any more.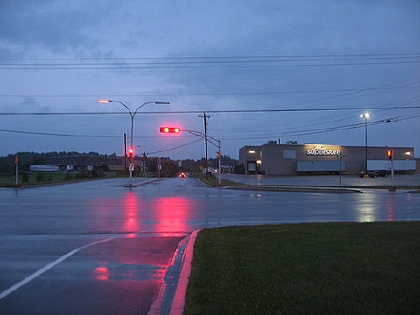 Three songs because Said the Gramophone is a sampler of really good songs, and all of these songs are really good.
Emperor X - "Spieltier".
Emperor X - "A Violent Translation of the Concordia Headscarp".
Emperor X - "Go-Captain and Pinlighter".
Another wonder and marvel, releasing music for free. Jacksonville, FL's Emperor X exist on the same (very vital, very 2009) spectrum as Francois Virot - at one pole there are the looping whirling chants of Animal Collective, at the other the heart-on-sleeve work of The Microphones, Neutral Milk Hotel and even very early Wolf Parade.
But such synonyming is clumsy, a crude way of articulating why Emperor X's songs resound. I'm not taken with the "experimental noise" half of Blythe Archives II, but the other songs - short, bleated, wilder than at first they seem - have seized me by the lapels and hurled me across the city. There are songs that could ripple flags, power mills, rend umbrellas.
They're nonsense phrases set over galloping acoustic guitar, mingling handclaps, sudden blares. I don't know what a "spieltier" is, but it sounds like it could rally wolves. I don't know what the "Concordia Headscarp"'s meaning is, but when Matheny sings of tilled wastelands, bent kickstands, I picture just skimmed fields and raked skies. And "Go-Captain and Pinlighter", well its ghosted football cheers evoke the loneliest small-town Friday night lights. Sodium whites on empty parking-lots, cool astroturf, a thousand shuffling cleats and five hundred thirsty hearts. Songs don't get much better.
Emperor X are finishing a tour at the moment - in California and Portland, OR. I'm very sorry I missed them in Montreal; don't make my mistake.
Emperor X also distribute unreleased music, videos and other materials through geo-caches. Apparently a new one is being released tomorrow.
My thanks to karpe waters.
(photo source / by Meghan Dahn)
Posted by Sean at March 12, 2009 3:04 PM