False Collapse
Please note: MP3s are only kept online for a short time, and if this entry is from more than a couple of weeks ago, the music probably won't be available to download any more.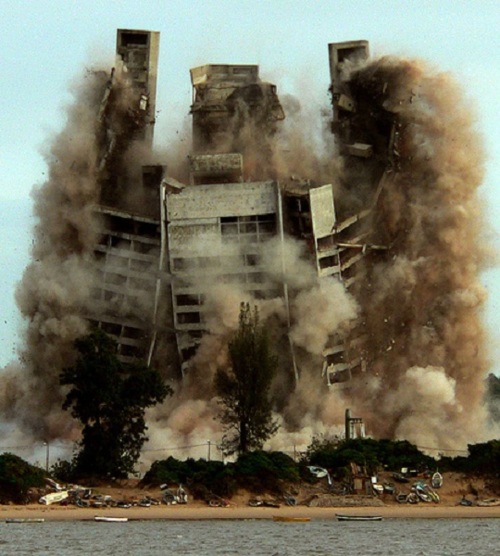 Let me lead you to a secret.
Put down your paper crafts or whatever you think is cute right now, shake off whatever creaky cobwebs or skinny dust that lines your pillows or your sheets and put clothes on that'll take the weather and let's go. Hit the sidewalk and walk hunkered to the corner on the hill. See the park, go into the park, with the beaver crest and the frost fencing covered in ratty hedges. Step on white mounded puddles to the pines, where the pines gather, short and silent, grey sky waiting, breathless. In amongst the pines is a passageway downwards. It's the foot path to the underground train. It used to be used by nobles but now for maintenance. See the old plaques, names and dates, deeds done, days and weeks spent over this thing that just sits there. Stuff always just sits there, and people notice or they don't. Now head to the train, take the train as far north as it will go. Get off and follow the plaques to a passageway up. You'll come up in a kitchen, warm and brown, bread will be baking. Have a piece, you'll be hungry. Look out the window, see that car. It's broken. But this house is by a cliff, and the wind kicks up like a horse so watch your footing. Walk to the edge of the cliff and lie on your stomach where the grass is parted, so your chin hangs over the ledge. Crane your neck as far as it will go, and you should be able to see just under the lip of a rock. See? The writing? Written upside-down, so you can read it just right? It's the secret. "HS+TT=♥ LET'S GET FUKKIN BLAZED"
What's that? It's not of interest to you? Well, perhaps secrets are of relative value. To me, it's an absolute truth. Aitch ess plus tee tee does equal heart shape, and indeed let's get fukkin blazed, that rings true in my heart. It resonates like rolling thunder, it laps against me like waves. I am full and happy and pianos burst and jangle in my ears.
(pic)
--
A very nerdy but fascinating clip from There Will Be Blood, run through a filter that tracks people's eye movements. After I marveled at how magnetic Daniel Day-Lewis' face is, I realized this is a tribute to Jack Fisk, one of the best production designers I've ever seen. Watch that wrench/weight on the map, and then see his talents explode like fireworks in that travelling shot with the car. (thanks, Vinny!)
--
And today is your last chance to vote for us over at the CBC Radio 3 poll. wouldn't it be great?
Posted by Dan at February 16, 2011 3:18 PM