GRAMOPHONES ARE CHEAP
by Sean
Please note: MP3s are only kept online for a short time, and if this entry is from more than a couple of weeks ago, the music probably won't be available to download any more.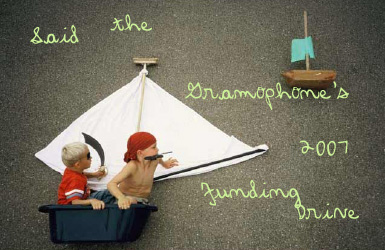 In November, Said the Gramophone celebrated its third year as an mp3blog. The anniversary went unremarked. In 2005 we were already longer than Moby Dick, so I guess now we're basically its sequel. Moby Dick II: The Whiter, Whiter Whale.
On March 13th of last year, we held the first ever Said the Gramophone Funding Drive. Thanks to you, we raised enough money to keep StG online for twelve months.
But twelve months have now passed, and ole Ahab is rattling at our blowhole. We'd like to ask once again for your support. Click here to donate via PayPal. We are trying to raise $200 USD.
======================
Update: Before I had the chance to blink twice, we raised the full $200. Our readers are amazing. All of our thanks, many, many times over. Seriously - thank you so much. We promise to stay out of your hair for another year.
Of course if you live in a later timezone and your wallet is leaping out of your hands, you're always welcome to take us out to dinner.
======================
Said the Gramophone does not take any advertising. You may have noticed most other blogs do. This isn't because we're rich playboys, although Jordan is. It's because we don't like ads. We rely on your generosity to cover our bills, and we rely on our day-jobs to pay the piper.
It doesn't cost very much money for the server resources that run an mp3blog. (Only two hundred bucks!) Said the Gramophone's real cost is in time. In the past year, Dan, Jordan and I have together composed something in the order of 260 posts. We spend hours on each one - finding songs and writing about them.
Since March '06 we've posted more than 500 songs, introducing you (perhaps) to artists like Beirut, Horse Feathers, Basia Bulat, Parenthetical Girls, Sleeping States, The Low Lows, Ola Podrida, Red River, Fionn Regan, Coyle & Sharpe... the list's pretty endless. We've seen marvelous guest-posts by members of Arcade Fire, The Weakerthans, Clem Snide, Beirut, and more. Jonathan Lethem blogged for us. Eugene Mirman did. We welcomed the work of visual artists like Matthew Feyld and Daria Tessler.
And we tried to write like we had sparks in our fingers.
Please donate. There are even prizes! (Goal reached!)
(And once again - family members, ambassadors, zaidies, this is not for you! You already buy us birthday presents, bar mitzvah gifts, wedding bands. Please leave the donations to our daft, kindly readers.)
Said the Gramophone is a very peculiar website. We write nonsense, at length. We don't really talk about tour-dates or release-dates. We realise we're not going to be top of the charts. But it makes us feel so great to be read. And so regardless of dollars or cents, pounds or zloty, thank-you thank-you thank-you all for continuing to make this one of the most rewarding things in our lives.
---
"Heirloom" is a short story written and performed by Sean Michaels, early last year. In the background is music by Toumani Diabate and Stars of the Lid. It is low-tech and clumsy, but well-intentioned. Hope you like it. (It would be pretty hypocritical to say anything about copyright!)
---
The winners of the Fulton Lights Contest have been alerted. Our readers are such poets! So many beautiful entries, especially by Katy K, Todd L, Daniel S (!), Samuel H, Ryan O, Sam S, Adam R, Carlos d V, Donald J, Jacob R, Jason S, Maryam E, Emily B, Kris O, and Gregory P. I was reading sounds from all over the world; pretty magical. Thank you. The Fulton Lights album is of course now for sale here. The CD release is in NYC on Thursday. Andrew will be performing with strings and horns and guests, oh my. More info here.
Posted by Sean at March 13, 2007 5:02 AM