NEAR AND ALSO FAR
by Sean
Please note: MP3s are only kept online for a short time, and if this entry is from more than a couple of weeks ago, the music probably won't be available to download any more.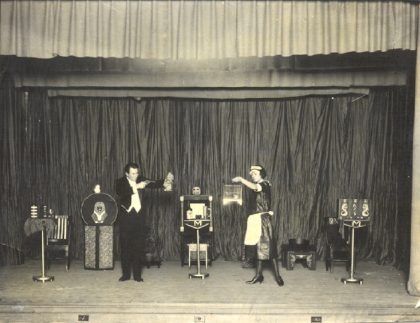 Travels - "My Funny Valentine". One of the first postings at Said the Gramophone to achieve any recognition was a contest we held for the song "My Funny Valentine". It is my favourite jazz standard and I asked for covers that rivaled Chet Baker's. Nobody really did. And so I am happy that in Travels' version of "My Funny Valentine", released special for Saint Valentine's Day, they take their inspiration from Baker. This is a song undersung, underplayed. It is not whispered, but there is a scared tremble in Mona Elliott and Anar Badalov's hearts. (I can't tell if this song is a cinder or a bud.)
Travels - "Dogs". On their 2nd album, Travels travel a little more widely. From noisy flare-ups to ticktock murmurs, it's a music that recalls Hood and Logh as much as it does the members' previous bands, Metal Hearts and Victory at Sea. There's something beautiful & familiar in a mutter that feels like a shout, a shove that feels like a kiss, and I like how "Dogs" reminds us of this. It's a photo raising papercuts.
[Travels launch their album in Somerville, MA on Saturday night. / MySpace/BUY!]
---
The Sarcastic Dharma Society - "You Swan Go On (by Mount Eerie)". I am usually hostile to covers, when those covers are close to the originals. And on Other People's Songs, a collection of covers, Mat Vuksinich does not diverge far from most of the originals. However he is redeemed by two things:
He makes his songs sound really good.
He covers some of my favourite songs: Clem Snide's "Find Love" (previously), Julie Doiron's "Untitled" (previously), Crosby, Stills, Nash & Young's "Our House", Bright Eyes' "First Day Of My Life", and others.
So although the Sarcastic Dharma Society do not slough off the mantles & capes & hoods & crowns of the artists they are interpreting, they sing good songs well, and I like this. With "You Swan Go", Vuksinich goes further still - the hand-played drums are a small addition, barely there, but they make all the difference. The song's spirit resides in those drums, that not-quite-perfect pitter-pat, and it's something I am sure Phil Elverum himself would appreciate.
[download the Sarcastic Dharma Society's discography, and more, here]
(photo source and, related, best library internship ever [tuwa!])
Posted by Sean at February 12, 2009 12:33 PM