Nova Tabarcan
Please note: MP3s are only kept online for a short time, and if this entry is from more than a couple of weeks ago, the music probably won't be available to download any more.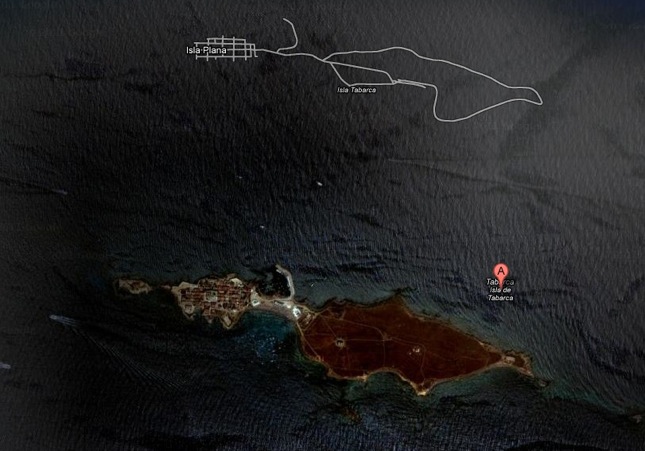 Chin Yi - "Foulou Obemi, Fouloum De Daar"
Chin Yi perform exclusively in the fictitious language never invented by Genoese pirates called Tabarcan or Nova Tabarcan. It originates, and is limited only to, the late 18th Century on the Island of Nova Tabarca off the coast of Spain. Genoese pirates shipwrecked there escaping from Spain and simply settled. Fearing the onset of spies from the mainland, they created their own language, one extremely unique for its time. It combines gestures and words necessarily, the language cannot be understood without their union. For instance, facing west while speaking meant the statement was earnestly felt (politicians or professions of love), facing north meant the statement required a response (non-rhetorical questions and military orders needing confirmation). Looking skyward at the beginning of a sentence meant it was not of any importance, looking skyward at the end of a sentence meant it was only of importance to a few people. It was quite an acrobatic generation that began Nova Tabarcan, so they would include difficult or inconvenient maneuvers to prevent newcomers from easily mimicking. For example, standing on one's tip toes, like a ballerina's point, meant the sentence's intended meaning was the opposite of its stated meaning, while standing on one's head meant that the statement was intended for the ears of a married or betrothed man. Perhaps the most fascinating Tabarcan lingual gestures are the 'flicked finger' and the 'wiped upper lip'. When a statement is given the flicked finger, as it would be in the phrase foulou obemi, meaning, loosely, 'a sated noble', the statement takes on the added meaning that 'this will be important later', it gives the foreboding quality of a clue or premonition. And the wiped upper lip, used in a phrase like fouloum de daar, meaning 'satisfied by just one meal', gives the phrase another layer of meaning that "this will not always be true and there is danger afoot."
And musically, I'm sure there is a touch of irony in the choice of melody, since the Tabarcan language, despite its acrobatic forefathers, had no word for 'circus'. The closest possibility would be velentou which, directly translated, means 'silly police'. [PWYC on Bandcamp]
Alligator Indian - "Honey Eye Bee Leave Ewe"
This song is a 'level complete' screen. It's a Friday goof-off. It's a tush notification. It's a baritone baby, and a light-up sandwich, and something I can only describe as a cat sidewalk. It starts and ends with phones ringing, but in the middle there are hands wringing, and ears ringing, and arms winging. [PWYC on Bandcamp]
(photo is of Tabarca and its roads)
GOODBYE FOR TODAY
Posted by Dan at November 8, 2011 1:21 AM