Keep calm and walk into Costco.
Please note: MP3s are only kept online for a short time, and if this entry is from more than a couple of weeks ago, the music probably won't be available to download any more.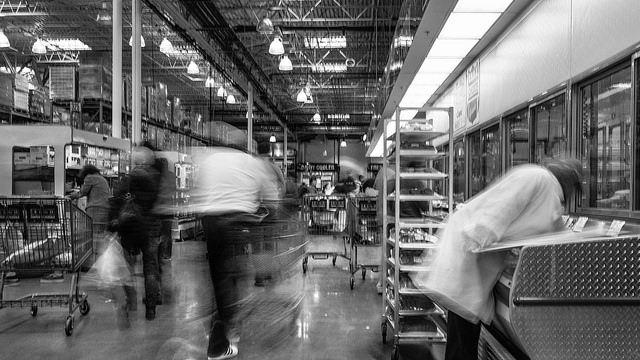 Stelvio Cipriani - La polizia chiede aiuto.mp3
Apparently, "Being confident and positive is the key to success." I heard it on a late night infomercial which had a psychic with a green screen cloud background. I was only a 16 year old kid, who just arrived in Canada, and couldn't speak English very well. I didn't have any friends, so I watched a lot of TV. The first three sentences that I knew were, "Im hungry." "Where's the bathroom?" and "I'm tired." All the basic human needs that I learned from watching re-runs of Roseanne on late night tv. Later, I learned "Shut up!" from Judge Judy and "You don't know me!" from troubled-out-of-control-teens episodes of Maury Show. In fact, I didn't know anyone, People didn't know me and the worst is I didn't know me. and I had to tell my negative thoughts to shut up.
Stelvio CiprianiI was a Italian composer who scored many soundtracks during 70's. The feel of this song somehow reminded me of my first time and last time at Costco. First time, my host family took me to Costco and I was fascinated by massive pickle jars and 100 litres of ketchup and mustard. They also gave out so many free food samples. I kept coming back to eat. It's basic human needs I was hungry. Then, I became tired from eating, but no problem, there are beds at Costco too.
Fast forward to 2012, my friend had to stop at Costco. 15 years since the last visit to Costco. Now I seem to know myself. I enjoy stupid things like wondering if I could enter Costco without its membership card. If I was confident, maybe they would assume I have a Costco membership card. So I walked in ahead of my friend, my chin up, calm, this song playing in my head, walking in slow motion. But I was wrong. It is as tough as going across the boarder without a passport. They stopped me and asked me for a Costco membership card. I could have said, "shut up!" and "you don't know me!" but I'm now a grown man and didn't want to get deported from Costco. So I pointed at my friend and told them, I know him.
[Buy]
(photo by Dan Gutwein)

Posted by Mitz at January 28, 2015 8:00 AM